Cleveland Iron Sets
To "iron out" something usually is not referring to getting wrinkles out of clothing. Rather, it means to fix something or to make something right. When thinking about Cleveland irons, it is easy to see them as fixing some bad things about a golf game.
Excluding woods or putters, all the various shots in between belong to the broad category of irons. Golfers need more distance and forgiveness from long golf irons and more accuracy and backspin from short irons. The good news is that Cleveland irons are designed to do all of that and more.
Features of Cleveland Golf Irons
The wide variety of shots you take with your irons depends on skill to be sure. But your equipment will also play a significant role in your performance and in an ultimate way, your score.
Long Irons

Cleveland Golf long irons (generally the 1 through 4 iron) are used to hit the golf ball low and far. Of course, that means misses are especially punitive.
Very few people use 1's or 2's and even 3's appear to be on the way to being replaced by hybrids or other utility clubs. Many complete iron sets skip longs completely. Beginners in particular, appear unwilling to pay the price for clubs they can't hit reasonably well.
Cleveland Golf makes both hollow long irons and cavity back style. Both are larger than average sized to encourage better golf by all players. These irons are forgiving and are made for those interested in control.
Middle Irons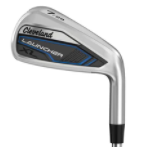 The 5 iron, 6 iron and 7 iron require precision and Cleveland Golf is all about it. With what they call MainFrame face technology, Cleveland Golf increases ball speed in these all-important clubs by creating a rebound effect.
These models help you launch the ball up and over obstacles or directly at the pin making them true game improvement irons. These irons also feature wider and flatter grooves.
In addition, the Cleveland Golf brand has a "V" shaped sole so that the entire bottom of the club starting with the heel will help the shot scoop out turf if the player has hit a steep angle. Sometimes the key aspect to a good score is having any misses still keeping the shot on a straight line toward the flag and this feature helps with misses.
Short Irons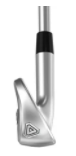 The 8 iron and 9 iron are vitally important when scoring matters (and when does it not matter.) Looks wise, the grooves might look the same but they are not.
Here the grooves are deeper and more closely spaced. These higher loft clubs and Cleveland Golf wedges have grooves that are laser milled to achieve maximum friction.
A Wedge for Every Short Game

The iron family has a problem with wedges and that is their labels. Pitching wedge, sand wedge, loft wedges, oh my! Cleveland Golf has set the standard in this category so you really can't go wrong.
Cleveland Golf has clear labels and no-nonsense angles. The higher the angle, the higher the shot with the most spin so escaping from sand and other bunkers is made more doable even for those new to golf. These Cleveland golf clubs are true shot savers!
The Cleveland CBX is so well known that many pros have adopted this as their own.
Launcher Series
The iron market is extremely competitive with brands like Ping and others that search for new developments to attract buyers. The Cleveland Launcher Series (including the old Launcher UHX irons) is a leader with its latest offering: The Cleveland Launcher XL.
With a price lower than many competitors, Cleveland has decided to make their products dominate the real estate inside of your golf bag. A true premium iron with a value price is just what you need to upgrade your golf swing.
Pro Endorsements
The list of pros using Cleveland extends across all the major professional tours. In addition to the PGA and LPGA, the European and Korn Ferry and Champions tours all have Cleveland enthusiasts.
Just a few examples include Hideki Matsuyama, Shane Lowrey and KJ Choi who are stars at the top of the rankings who use Cleveland. Erie Els, Peter Jacobsen and Larry Mize are some of the Cleveland veteran players on the Champions Tour.
Even a casual browser of golf sports pages can't help but to be impressed with this Hall of Fame caliber list.
Shop with Us
Cleveland is only one of many great brands offered by Golf-Clubs.com. We have a huge selection for you to filter through. With a competitive price and so many choices, you and your golf swing will be happy you found us.
We have all the golf clothing, shoes and bags you could ever need. And the list of accessories like gloves goes on and on. Be sure to check out our sale page too!
Customer service is a big deal to us. Have questions? Call us.