Cleveland Putters
The arena rock band Boston had a mega-hit in the 1970's with "More Than a Feeling." Putting in golf is also more than a feeling - it is reading the line, getting the speed right and having a putter making your stroke feel effortless. This is exactly the feel you get with Cleveland putters.
Cleveland Golf putters are a product of extensive research on how to get the best results on the green. Their conclusion is that different golfers need different putters, whether a blade or a mallet, both of which are available, to help them hit putts with the feeling of confidence.
Why Buy Cleveland Golf Putters?
A Cleveland putter is a product of the sort that is designed to cut down the number of putts by having the ball travel a consistent distance. They do this with product technology designed to please every golfer from beginner to touring pro.
Speed Optimized Face Technology
A Cleveland Golf putter has a face that understands that sometimes a golfer will strike the ball away from the center of the club face. While the best results from most putters requires hitting dead center, with Cleveland Golf putters, S.O.F.T. is not just a marketing angle but user friendly products that keep your shot on the intended line even if you hit near the toe or heel.
Unique Milled Pattern
Milling is the way that a face has patterns carved into the head of the putter. Cleveland Golf putters has a pattern that no other top brand has. This is part of the way their items have such a soft feel and may change the way you shop for stroke saving new putters.
Low Center of Gravity
Any search for a new putter simply has to include Cleveland Golf because their research has revealed a soft putter achieves results from several attributes including the weight distribution in the head. If you have ever used a putter where you sometimes top a putt, it is likely the steel used in that head is distributed in a way where the weight is too high. This old, classic design for many clubs is out of favor in putters.
Putter Length
Cleveland Golf putters are typically made in the standard lengths of 34 or 35 inches. Those who are used to the now out of fashion extra-long putter, may want to consider a more standard length putter and consumers who are on the taller or shorter end of golfers will sometimes shop for a more custom fit model.
Satin Finish
Most brands like Cleveland Golf putters have a particular finish on their golf clubs. You will see some differences but satin is a pretty standard classic look on the tour and it is really used for cosmetic reasons as applied to the stainless steel.
Mallet vs. Blade Clubs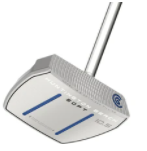 Trying to decide on a new Cleveland Golf mallet vs. a Cleveland Golf blade putter is a debate every time a golfer grips a putter. The biggest difference happens with off-center hits.
Mallet putters tend to be more forgiving than a blade. However, the pros largely don't have this problem so a majority of pros play with a blade as their opinion is that a blade putter gives them the sort of feel they need to be great on the trickiest putts.
Some analysts believe the type of putting stroke you have should influence your selection in Cleveland Golf putters. The theory is an arching stroke works best with a blade whereas a straight back style lends itself to a mallet.
It is generally thought easier to visually line up a mallet golf putter because their thicker heads will have more golfer-friendly visual clues. Cleveland Golf putters have used a variety of classic lines to assist you in seeing the line between the ball and the flag.
Regardless of which style you prefer for your search, the Cleveland Golf putters brand has product available for you. However, it is not advisable to switch back and forth on any regular basis as there is an adjustment factor across these two very different putters and it takes a while to become used to each.
The Huntington Beach Soft Series
The new series of Cleveland Golf putters is the Huntington Beach Soft product brand. Today, Cleveland Golf sees high demand for this model series for several reasons.
While the classic steel with a satin finish looks like a simple design, the additional technology they have put into these putters makes them great items on the leading edge of new product research and are used by more and more golfers both here and in the United Kingdom.
Whether you grip a Cleveland putter right handed or left handed you have options. However, those with a lefty grip will have product with more limited availability than those with a right handed grip.
Cleveland also makes a Frontline Series of putters for certain players with narrower and straighter strokes.
Price?
Cleveland Golf putters are considered exceptionally high quality with a price that is very hard to beat in this category. Because this is the right product for many a customer, you might expect a price significantly higher than it is.
Cleveland Golf is a company that does not want price to get in the way for those shopping for a new golf putter so it prices their product with an unusually low price compared to other super premium brand golf putters.
Golf-Clubs.com offers a competitive price on our giant selection. Sometimes we can offer a sale price so check our sale site for deals on Cleveland.
Go Flag Hunting with Cleveland
If you are in the market for a new putter, Cleveland has to be included on any list as they are simply too good to ignore. While Cleveland is far from the only game in town, their visibility with wedges means they are force in the short game and you will see their putters belong in your golf cart at private clubs and public courses alike.
Shop with Confidence
Golf-Clubs.com is proud to offer Cleveland and a huge selection of new irons, wedges, and drivers ready for shipping. Also see our amazing variety of apparel and shoes for both women and men.
Need more information? If you are used to outstanding service, we are here to accommodate you. Please feel free to call us with any questions as our customer service team is here to assist you with everything golf related.
We fill orders quickly and our shipping is prompt. Join our email too!