Golf Etiquette for Beginner Golfers
You've got your clubs, balls, and accessories from Golf-Clubs.com so you are fully equipped and ready to go out for your first round of golf on the golf course. Maybe you've even read the official "Rules of Golf" from the PGA (which is more than most experienced golfers have done.) But for beginner golfers golf etiquette can be intimidating, mysterious, and maybe even annoying or discouraging.
Golf etiquette really is designed to maximize fun for you and your playing partners. Many courses have their own quirks so even if you search high and low for a definitive list, well, you are likely to be playing golf with an incomplete list. So, the best tips regarding etiquette are really this: go out and have fun and if you have questions, ask someone!
Top 10 Tips for Golf Course Etiquette
There are no quizzes here, so try to remember the most important thing: be a golfer who has fun and is respectful of your playing partners and the course you are playing.
1. Tee Times and Golf Courses
If you will play on a weekend or other busy times, chances are you will need a tee time. You generally will have trouble just walking on busy courses.
A tee time is when the first member of your group is expected to hit their first shot on the first tee. But you have to check in at the front desk before you hit the course. You make a tee time by either calling course or by using any number of online systems.
Therefore, your arrival time for your round should be 20 to 30 minutes early. Being early will give you some time to stretch and to warm up by hitting a few balls on the range and putting a few balls on the practice putting green. Arriving ahead of time will also insure you do not lose your place in line.
2. Pace of Play for Beginners
No one cares if you are bad. It's expected of beginners! What is not cool is being bad and slow. In general, if your group is keeping up with the group in front of you (whether walking or riding) you will be fine.
If you are standing around waiting for the group in front of you, that is ok even if it is frustrating. However, if the group behind you is standing around waiting and you have an open hole in front of you, then golf etiquette encourages your group to allow the next group to play through.
Some other ways to keep your pace of play moving along are for you to play ready golf. The old school honors golf is fine for tournaments and requires that the golfer farthest away hits their golf ball before anyone else. But ready golf means whoever is ready should go ahead and hit as long as only one person at a time is hitting their golf ball
Honors golf also means whoever got the lowest score on the previous hole hits their ball first at the next tee box. This is not necessary in ready golf. The official Rules of Golf require honors style in money events.
If all else fails and you fall behind, just pick up your ball and move on!
No one wants to watch you take endless practice swings as you stand over the ball. No need to rush, but standing there and staring at the ball is just holding up play of your group and everyone behind you.
No one wants to search for lost golf balls for longer than the 3 minutes called for in the Rules of Golf either. Your round will be faster if you drop a ball, take a penalty stroke and head for the green.
The official rule is you have to go back and hit from the previous spot, but a friendly game will usually not follow this rule to the letter.
4. Etiquette on the Green
The green of a golf course is sacred ground. Here is where strokes are saved (or lost). Therefore, be mindful of a few simple things while you putt.
1. When all of your group is on the putting green, mark the location of your ball and if it has mud or other crap on it, clean it. This is the one time you are allowed to actually touch the ball. When it is your turn to putt, pick up the mark and place your ball in that exact spot.
2. Repair any marks your ball left on the green and do a favor for groups behind you and repair other ball marks you may see if you have time.
3. Do not ever walk in the imaginary line between another golfer's ball and the hole. This is called walking in their line, can disrupt their ball's journey and is viewed as very rude.
4. Don't hover behind another golfer as they line up their putt. If you want to see exactly where their ball goes, you can certainly move immediately after they hit their ball.
5. If you are the first in your group to "hole out" (get the ball in the cup), you should stand by to replace the flag after the last person has putted out. Of course, the Rules of Golf now allow the flag to stay in the hole at the option of each golfer.
5. Playing with Mulligans and Gimmie's
A mulligan is a do over for an individual shot. A gimmie is a putt on the green you do not have to take. There is no rule allowing for either but most friendly games will allow both to a limited extent.
Beginner golfers are given wide latitude to hit a shot over without counting the bad shot. Many weekend golfers allow one mulligan per nine holes. Typically, these are only taken on a tee shot.
Gimmies are putts usually within 2 or 3 feet of the cup. If another member of the group says something like "that's good" or "pick it up" it means you are done taking shots on that hole and the gimmie is counted as your last shot.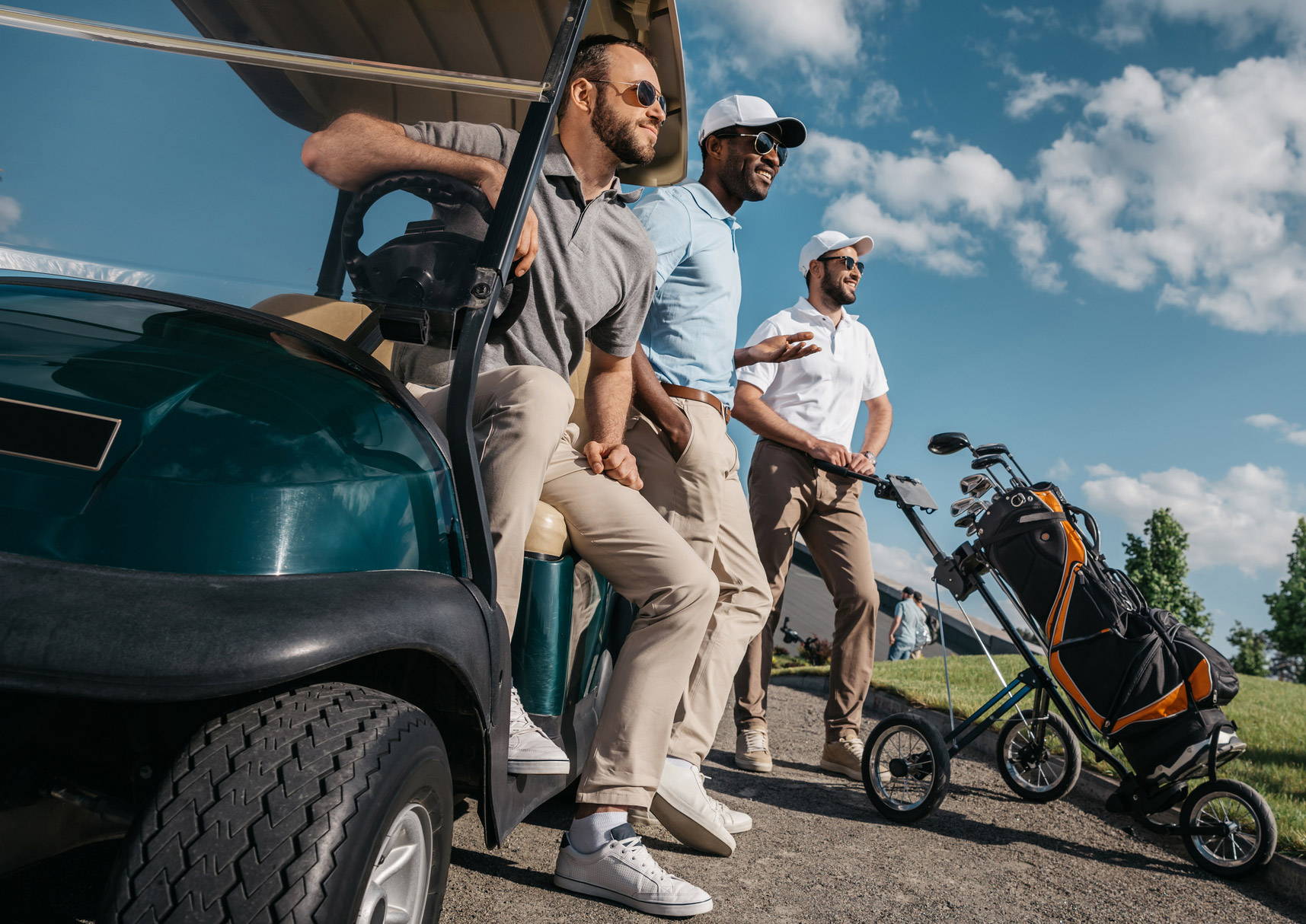 Most golf courses have carts to drive and some will even require them for all golfers - usually to keep up the speed of play. There are two areas that are always off limits for carts: the tee box area and anywhere near the greens.
Especially if you will play a course that is wet, the local rules may dictate that carts must stay on the cart path at all times. Some clubs have invested in the technology to automatically disable a cart if it leaves the cart path. If they tell you "cart path only" they mean it.
The golf cart is also the place for you to keep your bag, extra golf balls, extra layers of clothing, drinks and phones. If you are going to play a money game, one official scorecard is kept but if you want to keep your own score that is certainly ok too.
Be sure your bag is securely attached. You will hit bumps along the way and your bag and every single club will fly off if you aren't careful.
All golfers take divots and they should be repaired immediately. There is no penalty stroke for digging a deep divot but you should replace the turf you dig out. Often, small plastic bottles of sand are on the cart to fill in a divot too. Use them!
All golfers find them selves in sand traps. The rule states you hit the ball where it lands regardless of how tough the stance is or even if the ball is buried. It would be a penalty to take the ball out of the trap (and less fun too!)
When done in the trap, it is a courtesy to rake where you stand and walk anywhere in the trap. You wouldn't want to try to take a swing and hit out of someone else's footprint would you?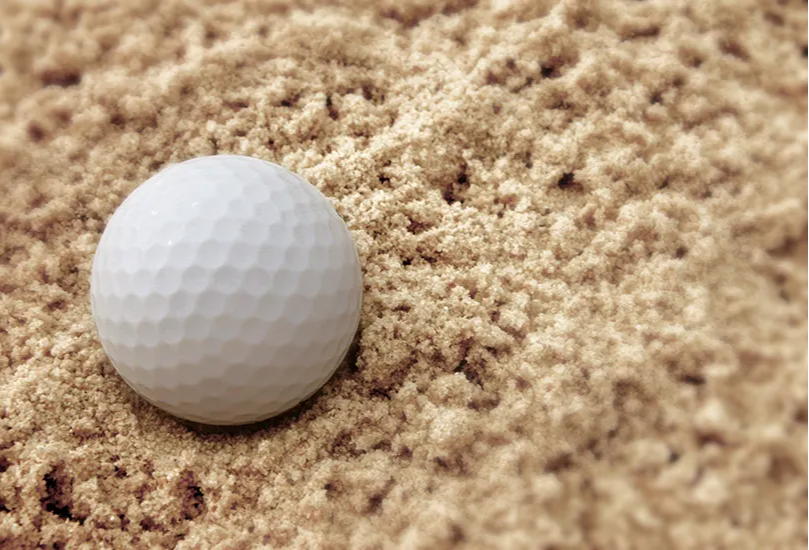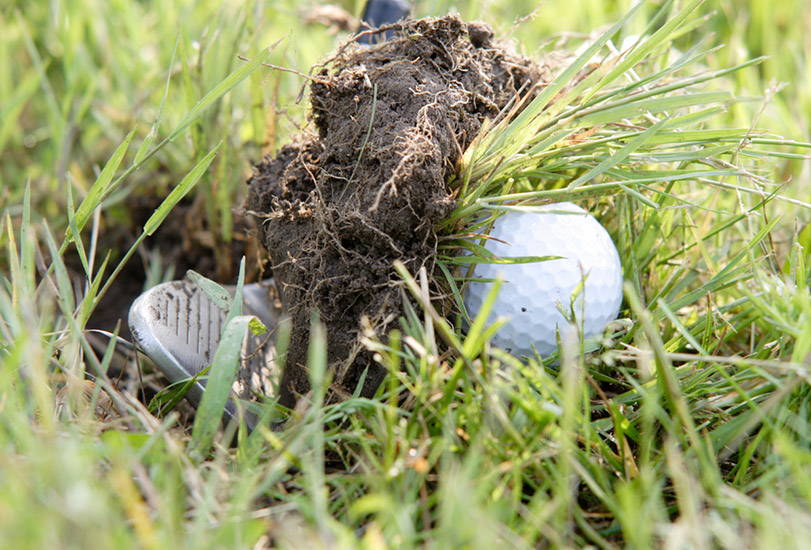 8. Talking During the Round
This is a golf course not a church so chat away anytime during your game. One big exception: talking while someone is getting ready to swing their club is a distraction and is rude. This is not just part of the rules, it is common courtesy.
On a Par 3 you should wait for the group in front of you to hit so no talking during their shots either.
An increasing problem on the course is phone noise. Some private clubs have begun taking a hard line on phone use.
Have your phone on mute at all times from the range to the 19th hole (club house.) Certainly no talking on it during other's swings.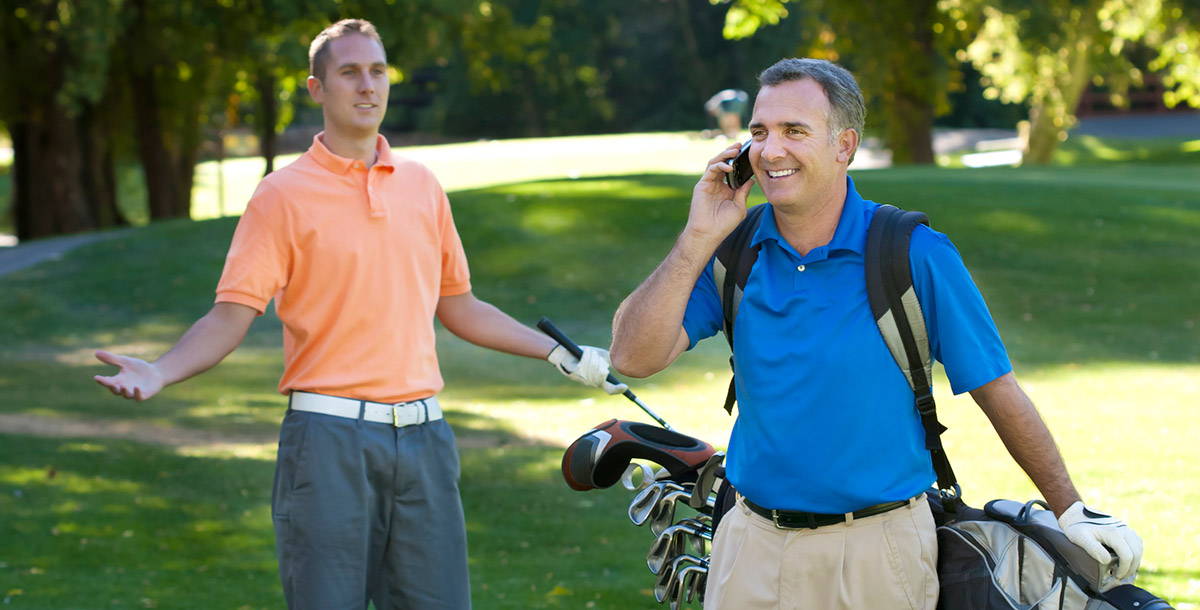 Every player is going to hit a stroke in an unintended direction. If you hit it even in the general direction of other golfers, yelling "fore" is the customary warning. If you hear "fore" duck!
The game of golf has often been criticized for having too many rules that are too complicated to learn. That's a fair complaint.
So many players don't even try. And that is wrong too. If you are a beginner, knowing the basics will be well respected by those playing with you. If you are not sure, ask!
It is entirely different if you find yourself in a club tournament where bragging rights, titles and maybe money are involved. Here, the expectations are higher and failing to follow all the rules strictly is not just bad form, it is flat out cheating.
Golf is a great way to get outside, enjoy time with your friends and family, and maybe have a few beverages of your choice. You might think having the best score is critical, but if you follow this one simple rule you will be well served: have fun, laugh a lot, and be respectful of the course and others.
Golf-clubs.com is here to help you have as much fun as possible. From sets of golf clubs, to balls, to clothing for men and women and even bags to carry or stash on the cart, we are here to provide with high quality products at a competitive price.
Don't know what clubs to buy? Not sure of how many wedges you should carry or even what a wedge is? Check out our Learning Center.
We are also here to provide advice. We have a team of friendly, highly trained, local experts who are happy to take your phone calls and answer your questions - even if you think they are super basic.
Our shipping is fast and curbside pickup is available in SE Michigan. See you on the course!