Golf Stand Bags
Golf courses are a study in contradictions: long grass and short, hills and valleys and flats, sand and water. But one thing over which there is no contradiction when you walk the golf course there is no substitute for golf stand bags.
Sometimes called carry bags, golf stand bags are a careful balance of the need for a full set of clubs and assorted other equipment vs. the desire for lighter weights suited for carrying while walking. Golf equipment makers, including the top brands, go to extraordinary lengths to design efficient stand bags to meet all these demands.
What is a golf stand bag?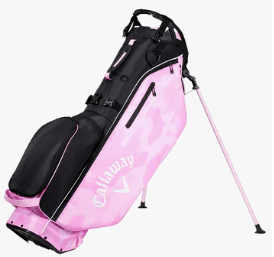 Golf bags with a jillion pockets bulging with every piece of golf equipment imaginable, are NOT stand bags. This is a style of golf bag that is slimmed down for a lighter weight perfectly balanced to carry for a complete round.
This means they will not have the capacity for a twelve pack of your favorite beverage. The desire to save weight extends to the materials used as, for instance, lighter synthetics are much more likely to be used than heavy gauge leather.
Features of the Best Golf Stand Bags
A Golf Bag with Highly Functional Straps
When walking the course you might walk three to five miles. No matter your age, level of fitness or time lifting weights, you are absolutely going to need a comfortable strap or two to carry your equipment.
Two Types of Carrying Straps
Old school single strap. When you use golf stand bags you can count on a heavily padded strap to sling over your shoulder as you walk down the fairway.

Backpack style. Stand bags with these straps will have an easy to take on and off harness type system. A bit more work to use, these have the advantage of better distributing the pounds across your back that you have to carry.
Two Legs Form a Tripod
When you put golf stand bags on the ground two sturdy legs automatically are deployed. These combined with the bag itself form a tripod holding the bag up allowing for easier access to your golf clubs.
Furthermore, these legs make it easier to pick up the bag after you are done with your swing. This saves lots of wear and tear on your back and core muscles.
Molded Plastic Base
Unless your game always keeps you out of the wet areas (impossible!) you will appreciate the fact that the base prevents water access. In addition, it really helps save your clubs from getting banged around.
Enough Pockets for the Necessities
There is room for rain apparel and other important things in most golf stand bags. Every brand has a different way of organizing pockets on account of their own creative research on what golfers really need.
Club Protection
Different bags have differing numbers of dividers to keep clubs separated thereby preventing scratches and damage to the grooves. These also make it easier to access the right club.
Ultra-Lights
Some ultra-lightweight stand bags do not have any dividers to save pounds. Generally, these are only used by kids or for a quick trip to the range to groove that 7 iron.
Can I use stand bags with a push cart?
Generally, yes but it is a good idea to make sure the frame holding the legs is not dragging underneath the cart to prevent damage and bending to the frame.
Can I use stand bags on a riding cart?
Maybe. When you carry golf stand bags on the back of a riding cart the cart's strap used to hold the golf bag can damage the leg system. Some golfers actually will take the frame holding the legs off if they are going to ride on account of this risk of damage.
This however is not ideal. Stand bags are better when you walk, and cart bags are better when you ride. The best idea is to have both.
What about price?
A quality brand will command a premium price when you purchase them. Prices, however, vary considerably so it is a good idea to compare features.
Prices sometimes drop at the end of golf season so be sure to checkout our clearance site too.
One Stop Shopping
Golf-clubs.com has a gigantic selection for you to choose from. With rock bottom prices on name brand merchandise like Titleist and Callaway you know you can fill your cart with bargains for yourself or that golfer on your gift list. Apparel, balls and accessories are all here.
Join our email list to hear about sales and deals. And we ship promptly and accurately. But if you can't wait for the shipping and you are in SE Michigan, you can access our store location with curbside pickup.
Our friendly golf experts are here to answer your questions so call us!