Cleveland Wedges
What do cheese, women's shoes, log splitting and golf all have in common? The wedge is important in all of them! Cleveland wedges might not help you much with the first three, but in golf, the best the sport has to offer players for popping the ball up comes from products made by Cleveland.
This company has made it their mission to revolutionize the short game. Cleveland golf wedges have many options available for the golfer trying to get up and down to make par from short distances and awkward lies.
Three Series of Cleveland Golf Wedges
CBX Series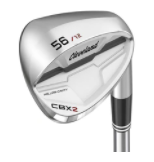 This product is most known for versatility. In your search to add new wedges, you want to escape from sand traps, hit from the fairway with a steep angle of approach, and have a spinner making the ball stop near to where it lands.
The face of these Cleveland golf wedges has a groove no matter where the ball makes contact which results in spin from a full swing like that from a pro. The shaft is also designed to be as user friendly as a custom model.
The hollow cavity back design is popular among average golfers because of it being so forgiving of raw rookies' mistakes. These clubs come in tour satin and black satin finishes with the shiny tour satin the much more popular product.
RTX Series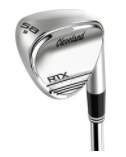 The RTX Series is primarily used as a loft wedge. These items are used when you want to pop the ball up, have it rotate as much as possible, and make it stop on the green even though it is covering a relatively short distance.
The design of these golf clubs includes grooves all over the face to accommodate off center hits and still generate spin. Many brands of wedges have trouble getting good results for the average golfer but not Cleveland golf wedges.
These items come in tour satin and black satin finishes with the tour option the far more popular wedges.
With several loft angles to choose from, RTX wedges are the perfect product for hitting the always challenging flop shot. A customer new to Cleveland will enjoy hitting this sort of shot like a pro.
Smart Sole Series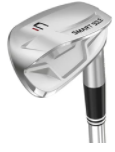 Cleveland golf wedges will add a fairly new member to their product menu with the Smart Sole. The golfer of today wants the right equipment to have scoring come easy and these are the wedges for them.
When you hop out of your cart and your wedges are calling, having confidence to hit the ideal shot every time improves consistency and ultimately your scores. With a chipping wedge and others the extra wide three tiered sole in this series will add the confidence you need.
With an attractive price point, the idea is to enter the realm of short game experts if you add one or more of these to your bag.
Pros Using Cleveland Golf Wedges
Perhaps you are wondering "Do any pros use Cleveland wedges?" The answer is a resounding yes. Add Hideki Matsuyama, Shane Lowry, Keegan Bradley and others to the long list of endorsers.
Price?
What price would you pay to add a couple more pars to your round? Cleveland wedges carry a price you can afford and we have a sale page too.
Shop for Value
The reviews are in and Golf-Clubs.com is your go to site to shop for all your golf needs. We do it all with a competitive price. Free shipping on orders over $49.
We carry a huge selection of golf clothing, shoes, and accessories. Please call us with any questions!