Golf Cart Bags
Golf is wonderful sport that millions of people enjoy every year. It is also a sport that requires a fairly large amount of equipment and that is where golf cart bags enter the conversation.
Every golfer carries the full complement of clubs and balls. Add to that the need to carry tees, divot tools, your cell, a set of rain gear, and some sort of implement to retrieve balls from the inevitable hazard. Cart bags are the answer for the players who ride in a cart to get around the course.
Who should buy a golf cart bag?
Since these bags can carry almost everything you would want or need on the course, they are heavier than other bags. This is especially true if you make it a project to fill all the pockets!
As a result, golf cart bags are best suited for those golfers who prefer to ride rather than walk. For individuals who prefer to walk the better option is to own a stand bag. For the player who does both, having both golf bags is a real plus.
Five key features of the best golf cart bags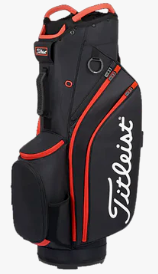 1) A Golf Bag Protects Clubs
Since in this category of bag, the weight is not as important as in the carry style, it can weigh relatively heavy. But the pounds do matter somewhat as you still have to lift it up into the cart.
Therefore, golf cart bags will often have a section dedicated to each golf club. This keeps them from banging into each other disturbing the grooves and scratching the finish.
2) Sturdy Base
Usually a molded plastic, the base must fit into the back of the cart. While pretty standard in cart bags, the size of the base keeps it firmly planted in the cart.
The base also is useful for standing up golf cart bags. While it is not recommended you traverse 18 holes with these bags, if you do, you will like that these bags can generally stand up on their own on level ground. You will also find this is a useful feature at the practice range or in the parking lot.
3) Plenty of Pockets
You may be surprised as to how many compartments styles like this are likely to have. The majority of (if not all) the pockets will be on three sides as the fourth side is pressed up against the wall of the cart.
Examples
Unique features like a magnetic pocket to hold your rangefinder or an insulated pocket to hold your favorite beverage or a padded pocket for your cell and others are all options with golf cart bags. Manufacturers are constantly coming up with new and exciting ways to secure your belongings while you play your favorite game.
4) Accommodate the Strap
Since cart bags have to be attached to the actual cart itself, many bags have specific designs to make it amazingly simple and secure to keep them attached with the strap. Many brands literally design each compartment with the strap in mind.
Anytime you are looking at cart golf bags, designing with the strap in mind is no small matter. For example, if the strap goes right over a zipper for a picket, it will make the contents of that pocket all but inaccessible.
5) Specialty Storage
One of the great things about golf cart bags is that you don't have to compromise. For instance, if rain is in the forecast, you will want an umbrella for the course and if your bag does not have specific ways to contain it, well, have you ever tried to stuff an umbrella in a tiny pocket?
Examples
If your hands perspire a lot, you know how beneficial it is to access an extra glove or two. Having a pocket specifically designed for glove storage will extend their useful life and improve your grip with nice, dry gloves. And an important special storage space will be insulated to keep your favorite beverage just as cold on hole 17 as on hole 2.
When should golf bags be replaced?
Two conditions call for new bags:
If you are moving away from walking and toward riding, it is time for a new one. The same is true if you are moving the other way.

If the old bag has a ripped pocket or clubs are falling out it is past time for a new one. Of course, you could just get a new one if you are tired of the old one!
Prices?
Golfers know that when you access a quality brand, price is not as important as getting what you need. But everyone has a budget when they shop.
Take advantage of end of season deals and other sales on our clearance site on account of the fact that you can save significant money. Be sure to checkout the options regularly as these items to not last long.
Shop for the Best
Golf-Clubs.com is your one stop shop for all kinds of golf gear and clothing. Accessories too! Save! Save! Save!
Super Customer Service
We ship promptly. We know you can't wait to get your new gear and we don't want shipping to slow you down!
Have questions? Call us! We love to help!