The hybrid is becoming one of the most popular clubs in the game of golf. It serves as one of the best substitutes to replace long irons in the golfer's bag and can be a great benefit on the course. This golf hybrid buying guide will help you figure out what is best for you.
5 Reasons to Use a Hybrid
Replace the hard to hit long iron with easy to hit clubs all over the golf course.

Operates as a rescue club on shots out of the long grass and other bad lies.

Easier to launch the high ball.

Professional golfers have begun to incorporate them into their games since the technology has advanced with features they cannot resist.

Many, many golfers have found they improve their game, so they ought to improve your game too!
What Makes Them Different?
Hybrids have some very unique characteristics that set them apart from fairway woods and irons like 2 or 3 irons. The hybrid club has a head shape similar to that of drivers and fairway woods but slightly smaller. The versatility this club has makes it a viable substitution for a fairway wood and/or a long iron.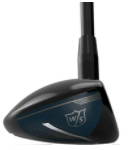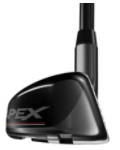 Moderate Lofted Hybrid Club
---
Loft of Hybrid Golf Clubs
A tremendous range of lofts exist with perimeter weighting technology to give amazing control and length even from bad lies. An adjustable head is also available to help golfers move between different lofts.
Low lofted hybrids vary from 14 to 17 degrees and usually will rival longer 2 0r 3 irons and fairway woods. Longer irons are a real chore to hit from the rough as their head will get caught in the long grass thus dramatically hurting distance. These hybrids allow the golfer to have maximum forgiveness, along with being easier to hit the golf ball for distance whether it be from the rough or the fairway.
Moderate Lofted Hybrid Clubs
The moderately lofted hybrid golf club will vary from 18 to 22 degrees and is the most commonly found one on the course. This loft range will have a closer comparison to the long iron, more specifically the 3 iron and 4 iron. A moderate lofted hybrid will give golfers a reliable club for the in-between yardages between a fairway wood and irons.
This is where the hybrid club has evolved tremendously. High lofted hybrids have a loft anywhere from 24 to 32 degrees. This loft provides golfers with a lot of flexibility, especially to those that struggle hitting the 5 iron or 6 iron at a normal distance. Using hybrids can therefore help get more consistency in a mid-iron game.
The hybrid club shaft is something that is often confusing to buyers and is overlooked. Many believe that the hybrid should act like a fairway wood because of how it looks, but that is not the case. A hybrid acts much more like an iron, and a shaft should be treated the same as an iron's shaft. If you are using a regular flex iron, use a regular flex hybrid, and the same goes for stiff shafts.
This is a very common question to ask when analyzing which golf club to choose. Both of these clubs look similar with their shape and size.
A 3 Wood should provide longer length than any hybrid.


A 5 wood may be easier to hit than a 3, but not easier to hit than a hybrid.


Hybrids have a shorter shaft length resulting in more consistent swing planes.


Consistent planes should result in better contact and more accuracy and therefore more distance in most shots struck from the fairway.


The hybrid's lower center of gravity can make the ball track higher than a wood thereby promoting a softer landing. This is important when deciding on a club to land on the green and to stay there after being hit from long distance.


The perimeter weighting in hybrids should result in higher launch angles and higher ball flight regardless of the lie.


Swing speed may improve with hybrids as they tend to be lighter than woods. The right hybrid can improve length, control and overall performance.
The best news of all is that you do not have to stick to any one hybrid or wood. In fact, plenty of players do mix and match clubs.
For instance, they might carry driver, a wood, a couple of hybrids, and if they have room in their bag, a long iron. Others have been known to have a bag with a driver, several hybrids, and a few wedges. In particular, seniors have been known for carrying more hybrids and fewer irons as their swing speeds slow as they become more "experienced." Just be sure not to exceed the USGA maximum of 14, particularly in tournament or other official matches where you can be penalized two stokes per hole up to 4 strokes per round for carrying too many clubs. The cynic would argue that if you are going to take a 4 stoke penalty, you might as well carry an unlimited number for all 18 holes! Golf-Clubs.com does not encourage rules violations!
Golf-Clubs.com is pleased to offer a huge selection of clubs for you to choose from. Brands like TaylorMade, Callaway, and Cleveland are just a few of the many great names available to you. But the choices don't end there. Apparel for women and men, shoes for big and small feet, accessories like gloves and hats are all here and waiting for your order.
If you have questions, feel free to contact our friendly team of golf experts. Our team loves to help you with any concerns you may have about products. And don't forget about the fact that we do have curbside service ready for your pickup in Southeast Michigan. We pride ourselves on our customer service so you can have the best experience possible.
---
---