JoFit
How many times have we heard about great companies starting in a garage or basement with little more than someone's vision and determination? To that list, we should add Jofit Golf founded and built by Joanne Cloak.
Her passion for golf and a desire for golf clothing that really fits meant her giving up a teaching career and taking over the household basement to start her women's sports apparel business. Today, she still runs the company with the central mission of providing high quality apparel for women who play golf and other sports.
She still tries on every garment before it is sold to the public. While Jofit's clothing is great for all women, they are especially focused on the over 40 crowd, making sure the fit will make sense for them.
What Golf Apparel Does Jofit Sell?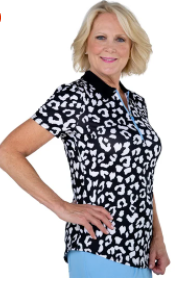 Golf Tops
Polos with cool, stretchy fabrics will help block sun, wick moisture and allow a full range of motion. Shop for your favorite look here.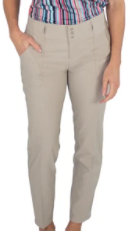 Golf Bottoms
Shorts, skorts, and pants will be great for ladies who search for the style that works best for them.
3 Reasons to Shop for Jofit
Shopping for Fit
Their entire philosophy is centered on golf clothing that fits well as that is what people shop for first. Active women who shop for quality to wear on the golf course love Jofit.
Design Details for Ladies
Their golf tops feature a scooped hem in the back to avoid it snagging during the backswing and avoiding a "plumber's crack" at any time during the round.
Tops often include darts in the back to provide a slimming effect. Bottoms are specifically engineered to create a smoother appearance.
Fabrics with Style and Practicality
Their fabrics will keep players cool if the conditions warrant. They will wick moisture and stretch when you stand or sit.
Attractive patterns and solids look good for a Saturday tournament or a simple ladies outing. When you can shop for such wide practicality, you can be confident in wearing them anywhere.
In addition, they also make some warmer apparel designed for those times a chill is in the air.
Price?
When you shop for the best price in ladies golf apparel, quality must be considered. Jofit's price is competitive with other quality providers.
A sign of their value is their availability in a fine store like Golf-Clubs.com. Search for our store sale price that will help save a bit off the regular price too! A sale is always fun!
Who Should Buy?
If you want to support a great company started and run by a woman, you have found a perfect home for your apparel dollars. Those who agree with Jofit's favorite motto: "look good, play better" will find what you shop for here.
All ladies who play golf will find something to their liking and this is particularly true of those over 40 who want to be confident about their look on and off the course. And if you want your apparel to last, Jofit's value will meet your price expectations.
For those looking for the latest and greatest designs, Jofit launches a new line of golf apparel every two months.
Shop for the Best Golf Clothes for Women by Women
We are proud to support women owned businesses with such high quality products. Be sure to check out our extensive options in shoes, accessories, and of course, clubs and other equipment. We love to help so call us with any questions. We are here for you.