Adidas
When you are the second biggest producer of sports related merchandise on the planet as Adidas is, you discover a few things. You figure out how to make money while providing gear with style for women, men and kids.
With decades of experience, Adidas always strives to improve the clothes, equipment and accessories they sell all over this country and the entire world. Whether you are going out to practice or to compete or engage in some other leisure activity, Adidas deserves to be one of your choices.
Adidas Apparel for Women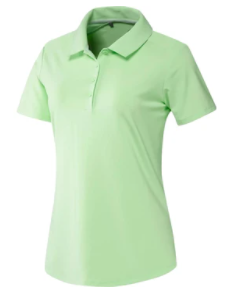 Practical, Fashion Forward Tops
On the golf course, it is important that your top do several things. The last thing you want is for your shirt to hurt your game.
Latest Fabrics
Stretchable fabrics like Adidas uses, will keep your swing moving free beginning with your backswing and all the way to your follow through. Moisture wicking content from Adidas will keep you comfortable.
Sun Blocking
The damage sun can do to your skin is significant. Some Adidas tops are focused on deflecting the nasty stuff.
Fashion Oriented Brand
Consumers want all their gear to be functional but women want more than that from Adidas - and they get it. Want fashionable colors? No problem. Want a choice of sleeveless, short sleeves and long sleeves? Got it.
Jackets and Layers
The elements can be a part of the sport of golf and Adidas has got you covered. Whether you search for a rain repelling jacket or a warmer layer to keep you comfortable, Adidas has something for you.
Pants and Skorts
Depending on your style and the weather, you may prefer skorts or pants when you golf. The Adidas brand offers both. In a sign they understand their customers, they are designed to look as good off the golf course as they do on.
Men's Apparel
Look guys, the days of putting on some ghastly shirt and pant combination are over. Adidas gives you the flexibility to shop for what works best for you.
Shirts
When you sign your scorecard at the end of the round, that is not the only setting your shirt will be seen in. Maybe you have a workout at the gym or you have to run to the store.
Men in the media like the Golf Network are now wearing golf shirts on camera. In a sign that the polo is accepted in more work settings than ever before, business casual is now a dominant standard for men and the Adidas brand has supported this style for years.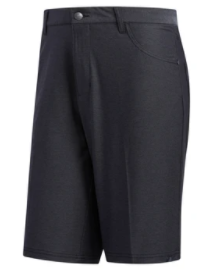 Shorts and Pants
If you search for gear that is good in all kinds of weather, Adidas has the full range of products. Having Adidas available for all the settings you find yourself in will simplify how you shop.
Shorts have pockets for tees, golf balls and all the other stuff you have to carry around. Adidas pants move with you no matter how many settings in which you use them.
Kid's Stuff
Kids grow up fast and they can be hard on clothing even as they are growing out of it quickly. Adidas designs their clothing to hold up through repeated laundry visits and to hold their size.
Boy's polos from Adidas are strong and look good after repeated washing. Girls' tops and skorts will have them feeling good on and off the golf course.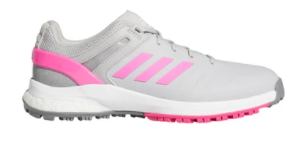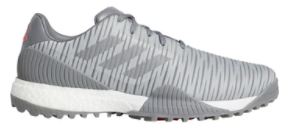 Adidas Shoes for Golf
The Adidas reputation for outstanding shoes is well deserved. The original Adidas training shoes still compete in a very crowded market.
Adidas mens shoes look good but really are the gold standard for support, repelling moisture, and comfort. Adidas golf shoes for ladies are specifically made for this audience. Your kids will enjoy wearing Adidas footwear as they take a lesson or play with mom or dad.
Golf-clubs.com has a huge selecting of Adidas golf products. You can search for Adidas and many other brands. Get bags, balls and your accessories here too.
Have questions? Our trained, friendly customer service staff is here to help!