Cleveland Drivers
A comedian once asked, "Why do we drive on a parkway and park on a driveway?" When it comes to playing golf, driving on either a driveway or a parkway is a bad idea as it might trigger a penalty stroke and more bad things. So, driving the golf ball ideally requires long distance and accuracy hitting the middle of the fairway just as you get from Cleveland drivers.
Driving is not all about having a swing moving at the pace of a Ferrari. In fact, a driver is a key component to both distance and accuracy and a Cleveland driver is designed to provide both to every golfer.
Why Buy a Cleveland Driver?
Cleveland has packed an amazing amount of technology into its driver series. The combination of all this technology and a reasonable price makes these attractive for both serious golfers and occasional players.
Head Size
Just look at it! It is ginormous. But this is not for looks as there is a very practical part of the technology that the oversized head provides.
The size makes room for an oversized sweet spot. The average golfer simply does not hit the little white sphere in the center of the club face every single time. Therefore, this larger sweet spot gives every player the chance to have more distance even on off center hits.
New Turbocharged Cup Face
Energy is transferred to the ball from the swing at the golf club face. What Cleveland Golf has done sounds pretty simple but is actually complicated.
Cleveland makes their driver face rebound on contact with two zones of flexibility thus generating increased speed off the club face. And of course, two is better than one!
But the configuration of what is sometimes called a variable face is also designed to have the shot's flight be straight. Straighter drives are a signature trait of drivers from Cleveland Golf.
Miyazaki C Kua Shaft
Other than heads on a driver, the shaft is the major influencer of the performance of a driver from Cleveland Golf. The highly regarded Miyazaki C Kua shaft is noted for being exceptionally light and strong.
By limiting the amount of swing weight from the shaft, Cleveland clubs make it easy to achieve higher velocity when you hit from the tee. And more speed means good distance to make your golfing buddy jealous.
Adjustable Ultralight Hosel
At the end of that Miyazaki C Kua shaft is the connection to the rest of that amazing technology. There are times during a season where you feel you need more loft on your drives and other times you may want less loft from your golf clubs.
While the Rules of Golf explicitly forbid mechanically adjusting a driver during a game, there is no prohibition from doing adjustments between rounds. For instance, if you know you will be playing in windy conditions it is likely you will want less loft in order to keep the shot low and hit more fairways.
Avid golfers seeking higher flights on their shots will likely want to use this adjustment feature as more loft might not compromise their yardage in the fairway as much as the weekend duffer.
Lower Center of Gravity
Cleveland Golf clubs have distributed weight strategically near the bottom of their drivers. This, combined with the light shaft and adjustable loft technology means a higher launch even for the average player.
Counterweight in the Grip
A small counterweight in the grip provides an important function. This will make for a smoother and more repeatable golf stroke particularly for the player who is not able to play regularly. However, this is a useful feature for most players.
New Launcher XL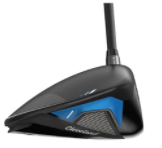 The Launcher XL series carries this name for a reason. As the latest and greatest successor to the Launcher HB Turbo driver, the Launcher XL has a longer shaft making it the longest driver in the series.
Launcher XL Lite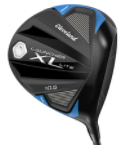 The Launcher XL Lite is a quarter inch longer yet lighter. This will create a faster club speed at contact resulting in increased ball speed and a higher ball flight. Having one of these clubs in your bag can mean more fun packed into every round.
Pro Endorsements
Cleveland Golf has received numerous endorsements of their clubs from many players on the PGA, LPGA and Champions Tours. Among the best known names are Ernie Els, Miguel Angel Jimenez, Graeme McDowell and Keegan Bradley.
Up and coming players on the Korn Ferry Tour and the European Tour are also playing with Cleveland clubs. This level of endorsement by some of the biggest names is not just for marketing purposes but these players have put their livelihood on the line with Cleveland for a reason - results.
Clubs and Much More
All the Hardware
Whatever your passion for golf needs for improvement is here. Putters, wedges, irons, and woods of every variety at competitive prices can be found when you shop with us. You name the type of golf clubs and chances are, we've got it.
Apparel
Golf-Clubs.com is your one stop shop for everything you need to have more fun at golf. Be sure to check out our absolutely huge selection of apparel for women and men. Polos, shorts, pullovers: you name it and we've got it.
Shoes
Tired of tired feet after a round? Got leaks getting your toes damp? You need a new pair of shoes and we've got 'em.
Accessories
If it's time for a new glove, we have the answer. If your hat or visor is looking shabby, we've got a huge selection for you to choose from.
The Best Customer Service
If you have questions, our team of professional golf advisors is here to be your resource for everything golf related. Call us! We have curbside pick-up if you are in SE Michigan and we ship fast.
If you are shopping for that perfect gift for the golf fanatic in your house, we have all kinds of great ideas that are perfect for every budget. Why not take advantage of our great service to find the right item at the right price for that special person?