Womens Golf Clubs
The days of women playing golf with men's clubs (used or otherwise) are thankfully over. The surge in popularity of the sport means womens golf clubs are more in demand than ever before.
Ladies golf clubs are made for the unique needs that ladies bring to the sport and are now manufactured with the latest materials and technologies to improve play at every level. Women's clubs have come a long way.
Essential Elements of Womens Clubs
Weight
Very important to distance is swing speed. Womens golf clubs are designed to be a bit lighter than mens clubs to allow more speed as the golf club strikes the ball.
Length
If golf clubs are too long, the player, woman or man, is likely to have difficulty swinging the golf club and achieving the optimum launch angle at contact. As a result, ladies clubs are designed to be a bit shorter to improve the ability to make excellent contact.
Petite womens golf clubs are also available.
Womens Golf Club Sets
A popular way to purchase a new set of golf clubs for the beginner is to buy a complete set. With the maximum number of clubs in the bag at one time set at 14, having the complete combination is available at a reasonable price by buying a set.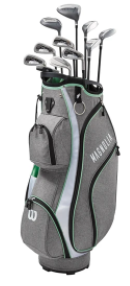 Womens golf clubs in sets allows new golfers to have everything from driver to putter and all the important clubs in between at a price lower than buying each club separately.
Individual Ladies Clubs
As a player becomes more experienced, they will probably discover a certain aspect of their play could be improved with an individual golf club. Drivers, putters, wedges and hybrids are perfect examples.
Drivers
Both ladies and men complain about their distance off the tee. The driver is the individual golf club to improve distance and new innovations in materials, club face thickness and weight distribution are constantly coming out.
Our Learning Center has plenty of detail about drivers.

Putters
Putters can be be an instant improver to scores on account of the fact that it is the most used golf club in the bag. Experiment with different lengths and shapes to find one with which to feel confident.
The options for putters are unlimited. This is why experimenting until you find one that just feels good is essential.
We discuss the many types of putters in the Learning Center.

Wedges
Sometimes the short game simply needs a new wedge to make a big difference. The big question is what wedge do you need?
A sand wedge is essential for getting out of sand traps. They lift the ball quickly and allow the club to slice through the sand to make clean contact.
Other wedges like pitching, gap or lob wedges have specific functions too. See our discussion about your options.

Hybrids
Hybrid golf clubs for ladies have become popular as an alternative to irons. Long irons like the 3, 4 and 5 generally are easier to hit as hybrids. We discuss hybrids in detail in the Learning Center.
Best Golf Clubs for Women?
While brands like Calloway and Wilson are popular, the most important thing is for clubs to feel good as you swing them. Try out several before buying.
Price of Ladies Golf Clubs?
When trying to determine how much does a good set of women's golf clubs cost several factors come into play. As one might expect, as the technology has advanced, so has the price.
Sometimes you can find a sale, and if you do, jump at it as these items do not last long.
Don't forget our apparel and shoes! Got questions? Call our friendly customer service team!