Cleveland Hybrids
Here's the situation: you have 180 yards to the pin, there are traps guarding the right and left side of the green, your fairway woods haven't worked for you for 2 years and you are down 1 with 2 holes to play for bragging rights and a beverage or two. As you look at the choices in your bag, it is obvious: you have to hit one of your Cleveland hybrids.
Cleveland hybrid golf clubs are that critical bridge between the middle irons and the driver. The days of trying to hit longer distances with an iron off the fairway deck are going, going, gone. For the sports equipment customer, the name Cleveland Golf is one to shop in this category.
Key Innovations of Cleveland Hybrid Golf Clubs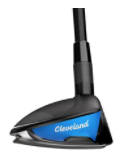 When a golf club has turf interaction, the search for power and distance becomes much more difficult. Their Launcher Halo line is the answer for many customers and is significantly different from other manufacturers like Ping.
Gliderails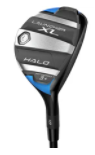 If you are trying to figure out "Are hybrid golf clubs worth it" you only have to think about any scenario where you can't reach your target with your 5 iron on account of distance, wind or on account of your own length off the carpet. As a regular golf customer, you know this shot comes up all the time.
The gliderails on the sole of their hybrids are specifically designed to keep the club face straight through impact - even when hitting out of that scruffy rough. Many players will sign up for Cleveland just to get these gliderails.
Rebound Frame

The Rebound frame found in a Cleveland hybrid increases ball speed off the club face. Their Launcher Halo is noted for providing distance due to the face rebounding at contact thanks to their unique frame.
That long carry over a water hazard becomes a doable golf shot thereby saving strokes. Now that is something every player will shop for.
Weight in the Grip

A small but important weight at the end of the grip makes is easier to swing the club the same way shot after shot. Consistency means confidence and the best results you could ever request.
Lower Center of Gravity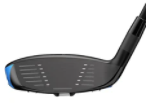 By pushing the weight of the head down to the lower edge, higher trajectory on many shots can be expected. This is a distinct advantage when hitting that long approach shot particularly to elevated greens.
Shaft Material
The shaft material on a Cleveland Golf hybrid has a moderate level of stiffness and is perfect for almost every player.
Cleveland Golf Endorsements
The PGA, European, LPGA and Champions Tours all have numerous pros that put their results on the line every week with Cleveland. As affiliates of Cleveland, they only want the best.
Shop for the Best in Golf
Golf-Clubs.com is proud to offer the best of the best apparel, shoes, and accessories for golfers from beginners to pros. Our prices are competitive and our sales website has real values.
Have a Question?
Shipping is fast and our staff is knowledgeable. Sign up for our email promotions too!