Womens Adidas Golf Apparel
How does a company get to be as big as Adidas? As they have done with Adidas womens golf apparel, all it takes is having quality clothing with style offered with very good prices marketed with a massive budget and have some real brand name athletes endorse you.
Today, in the highly competitive marketplace for sports apparel, Adidas golf apparel has gotten itself into a great place thanks to making wonderful clothing. With a strong golf product name brand, Adidas is a force.
Why Buy Adidas Womens Golf Clothing?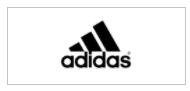 The famous logo with three stripes is symbolic of a world-wide golf product name brand.
Made by Women for Women
This golf apparel has women managing much of the design and production process. The results of buying the Adidas brand name are overwhelmingly positive indicating they really are in touch with their customers.
Huge Range of Choices
You name the color or size and after you sort through everything Adidas Golf has to offer, you will find lots of choices for you to wear when riding around in the golf cart. Shopping this brand name is likely to make you a fan of their entire lineup.
Sustainability
Adidas Golf is gradually increasing their recycled content in many designs as a sign of their sensitivity to this issue. When you search for a planet conscious company, Adidas and their affiliates will show up well.
5 Prominent Products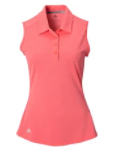 When you shop women's Adidas golf shirts, you will quickly see their designs are specifically made for women. The fit and comfort of their polos and other shirts is second to none.
Sleeveless and long sleeve options means playing in Adidas womens golf clothing regardless of temperature or preference. If you filter for color in golf apparel, your mission to shop will succeed with this Adidas Golf product.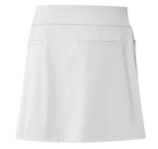 With thoughtful features for comfort and coverage, this Adidas Golf product is perfect for just about everyone.
Pants as Golf Apparel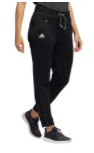 Whether a personal preference or just because the weather has a chill, pants are the Adidas Golf product you want to own. Shop for comfort and color.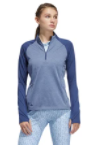 Stretchability, breathability, and water repelling means this golf apparel hits the sweet spot for consumers wanting great quality to go with a great price.

Regardless of activity, shop Adidas as they make exceptionally comfortable sports bras.
Shop with Us
Golf-Clubs.com has a huge selection of golf clothing for women and men in just about any color or size you can imagine. See our clearance site for deals.
Don't forget to get balls and bags here too! Our shipping is prompt. To hear about sales, our email sign up is the way to go. Call us with questions!