Adidas Womens Pullovers & Layering
When is it a good time to put on womens
Adidas golf pullovers & layering
? Well, mornings for sure and evenings of course but don't forget about afternoons too! Nighttime is good too as this
golf apparel
is a good selection for dinner and drinks.

Why Wear Adidas Golf Pullovers?
Layers for Golf
It makes no sense whatsoever to be chilled on the course. Having warmed up, loose muscles helps with a full backswing and a complete follow through.
But being overheated is a bad idea too. In addition to sweaty grips causing clubs to slip, the clammy sensation of being wet can generate chills - not ideal for focusing on that tricky downhill putt.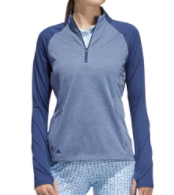 Attractive, Stretchy Fabrics
Golf is a selection game. Selecting the right club, the right target, and yes, selecting the right fabric for a pullover will all impact a score.
Adidas pullovers will stretch especially well in the shoulders and arms to allow a full range of motion. And their fabrics are increasingly made from recycled materials.
Your selection of Adidas simplifies your decision making considerably.
Fabric Selection
Adidas only uses high quality fabrics in their golf clothing. With a pullover however, the main content of the fabric could be a natural like cotton, or a more stretchable poly.
To find the right item to ride around in the golf cart for several hours may require a bit of a search and the selection of a preferred fabric is important for both comfort and price.
List of Details Important for Golf

Pockets
Golf means you have to carry some stuff with you. Tees, extra balls, a ball marker all find themselves in your pocket.
The problem is keeping the stuff in the pocket as you access something. A zipper on the pocket is a very handy thing.

Zippers
A quarter zip in the front is critical for regulating your temperature as you navigate around the golf course with or without a cart.
A good quality pullover like Adidas' has a quarter zip so that is easy to reduce or increase the ventilation of the product. If you expand your search to look for maximum flexibility, some products may have a side zipper which provides even more ventilation if needed.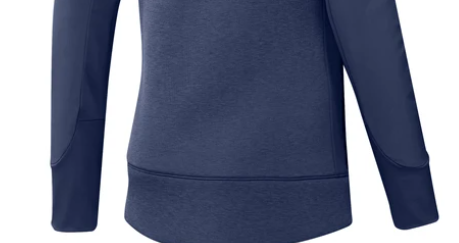 Cuffs
If your sleeves are flapping around, they can be a distraction. Adidas pullovers have sleeves that stay in place - some even have thumb holes to make those sleeves stay put.
Since pullovers are long sleeved, cuffs should make your list of details to examine. Cuffs should be easily stretched for both comfort and for maximizing the range of motion for your arms.
Collar
Does the collar stand up so that those chilly winds will be deflected? How high the collar goes may be a factor in your decision.
Weight
The most important part of layering is to get the weight right. First you have to decide on a base layer for your clothing. The selection of a base layer could be your normal golf polo or a long sleeve product of your choice.
A pullover is often the perfect item for a comfortable ride in the golf cart. A pullover is also good for layering under a rain jacket as this sort of product will add warmth without bulk.
Lightweight or Mid-Weight?
You may have to sort through several items before you refine your choice down to the right pullover. Usually a light to mid-weight selection will suffice for you to add to your base layer.
Color Selection
Colors are important for more than cosmetic reasons. A dark color will absorb more sunlight increasing the warmth which may be what you want - or not.
Access Your Golf Gear Here
Golf-Clubs.com has everything you need for golf: Apparel, balls, accessories, and yes, clubs. We also have the friendliest, most knowledgeable staff here to help you with any questions. Call us!
Access our curbside pickup if you are in SE Michigan.