Wilson Golf
As a big division of the mega sporting equipment brand Wilson, the folks at
Wilson Golf
have a product line up that is both broad and deep. Perhaps best known as a dominating brand in tennis circles, the golf clubs Wilson makes are highly competitive, and even better,
value priced
.
With golf balls, gloves and bags all serious options for the serious golfer, Wilson Golf is one of those brands that sometimes gets overlooked as consumers navigate the highly competitive golf equipment business. As you shop for quality clubs and accessories to improve your game at an attractive price, be sure to include Wilson Golf in your search. Your game and your wallet will be glad you did.
What are the Golf Clubs Wilson Makes?
Complete Sets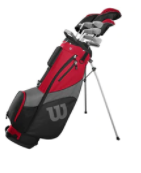 Beginning golfers have a difficult time deciding on clubs to buy. Buying a complete set of Wilson golf clubs takes the guesswork out of the process.
From grabbing the driver on the tee to using the quality putter to hole out and everything in between, a complete set gives you the chance to hit all the shots all the time. The bonus is that as a set, as compared to buying clubs individually, prices are a genuine bargain.
Items Included
When Wilson says "complete" they really mean it as the set comes with the bag and even head covers to protect your investment. Ok, so you have to buy balls and tees separately, but that is truly the easiest part of the process on account of the fact that the Wilson world of golf has plenty of options for these too.
Drivers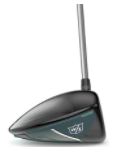 Wison Golf knows that almost every golfer wants more distance off the tee regardless of your ability. Additionally, Wilson also knows the average golfer will not strike the ball in the exact center of the club face all the time.
Latest Materials
Here, Wilson and its enormous research budget is really in its element here. Utilizing the latest technologies and graphite and other cutting-edge materials, Wilson makes drivers that expand the sweet spot so off-center hits will still have the trajectory you need to get the length you want.
Wilson Golf Clubs Version of Fairway Woods
So many players struggle to get the ball on the green from long distance. Wison fairway woods make it easy to make solid contact so you can avoid the rough and traps guarding the green.
Both men and women will see results by making a selection of these long bombers. Average golfers will find the sweet spot more often creating the results that are real stroke savers.
Hybrids
The long iron has generally been replaced by hybrids but Wilson has refined their features so players can nail golf shots they struggled to hit in the past. Games are won and lost sometimes by being able to hit effectively out of the first cut.
Impressive Sweet Spot
When you shop Wilson hybrids, the trademark huge, sweet spot is a given as is club head design to help you aim for the pin every time. And the price? A bargain for sure!
Irons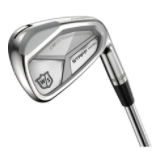 When you are in a tough match for the club championship or even if all you want to do is to claim bragging rights in your foursome, what you need from your irons most is predictability. Compare and search all you want, but Wilson brings true stability to your iron play.
Easy Selection Yields Results
As you jump out of the cart to hit that 150 yarder, your club selection is already made because you know exactly which iron will get you safely tucked in close to the pin. With a price to make your golf budget happy, Wilson makes an iron for women and men, right and left-handed players and even kids.
Wedges
It was bound to happen: you plopped one in that greenside bunker or didn't quite reach the green as that wind was gusting in your face (no way it was how you hit it from the fairway!) When you shop for wedges, you are now looking at pitching, sand and gap wedges where it is tough to compare across brands.
Winning Results
The selection of wedges to have in your golf cart can make a significant difference in your score as you make your run to that trophy or your favorite beverage in the clubhouse. Wilson Golf has the full line up with a value price so you can have the full complement of wedges to help you perform at the level of the sort that makes winning easy.
Putters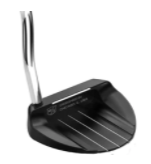 Many people forget that a putter is the most used club in your golf cart. These are the items where details like materials used in the grip and head can genuinely help with "feel."
Change the Feel
Wilson golf clubs carry a very competitive price and with putters that is significant. Those who don't play can't quite grasp why you need that fifth putter. And it is because "feel" comes and goes and the search for the right putter is a combination of art and science, you need full accessibility to multiple putters with different attributes.
Other Products
Balls
With the latest and greatest content in their covers and cores, Wilson is at the forefront of finding distance and control. Unlike the competition where hype and price exceed results, Wilson has to be in your selection search for balls because they simply work.
Color
And if you are a traditionalist, the standard white color will be your selection. But for those who are a bit of the non-conformist or simply someone who is sick of losing balls, the color options include yellow, orange and others when white does not have enough pizzazz.
Accessories
Gloves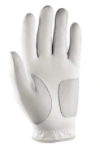 Most players use a glove and in bad weather they are a necessity. Wilson selects the sort of materials for their gloves that hold up for many rounds and they come in your size too.
Bags
If you like to walk the course, you will love Wilson bags for their lightness especially when you compare them to other companies whose bags feel like you are carrying around a ton of bricks. Their selection of durable content for their bags means they will hold up for many seasons.
A cart bag has to take the bouncing on the back end of a cart and the images of bags jammed full of all kinds of gear are all over the pages of prominent magazines. A Wilson bag means you will have accessibility to all your stuff thanks to multiple pockets made to take some weight.
Shop with Us
Golf-Clubs.com has a gigantic selection of clubs, accessories, shoes and men's and women's apparel ready for the golf course. Shop our clearance page for that special price that can't be beaten.
Browsers are welcome to compare our selection and will be content to fill their cart with all the fantastic deals. Take a timeout from your busy day and click on your next putter!
Call us with questions. We love to help!