Wilson Golf Clubs
When the
Wilson Sporting Goods
company decides to go big on something, the world had better pay attention.
Clubs by Wilson Golf
under the general umbrella of the Wilson Staff brand and other names, is one important part of a lineup that includes golf balls, bags and other accessories.
The Wilson Sporting Goods Company has a huge market share in tennis and other sports and is known all over the world. When you shop for golf or tennis gear, you know you will be getting a true value price when you choose Wilson athletic products.
Golf Equipment by Wilson
When you are among the world's elite sporting goods companies, your products will match or exceed the competition because you have the muscle, budget and reach others can only dream about. Wilson Staff is one of those brands that makes golf clubs for every golfer and anybody who wants to shop has to consider them.
Putters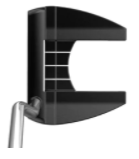 If you are like most golfers, you don't need a putter, you need several putters. So much of putting in golf is having confidence in your feel as you aim for birdie or eagle.
Many pro golfers carry a bunch of putters on the tournament circuit. On the practice green they will go with whatever putter has been hot or find one that week that is.
3 Attributes of a Wilson Putter
While prices are not the most important characteristic, just know that Wilson Staff has value prices on their putters so you can buy several.
1) Matte Finish
Shiney putters can be a distraction when golf balls make contact with the putter face. It is hard enough to perform on the course without dealing with glare on your golf equipment.
2) Double Milled Face
Wilson is great for making the ball move the same way all the time when it comes in contact with the face's surface. The Wilson Staff name is known for producing consistent, confidence building putts thanks to the way they finish the face.
With several different head shape options to compare, you can find one that features the exact look and feel you want and deserve. The all-important face has the same content and profile to help golfers of every ability.
3) Oversized Grip
To play the game at a decent level, your hands are critical on account of the fact that they are the conduit to the rest of your swing. If you choose a Wilson putter, you will find your hands have a natural feel regardless of the size or length of the putter thanks to the grip.
Irons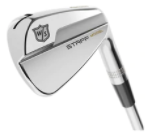 The search for the perfect irons means you should understand the differences between cavity back and blade style and what is best for you. Both of these are options with Wilson.
5 Steps in the Search Process to Compare Irons
Decide on the style of club head
Figure out how stiff you want the shaft to be
Check price
Understand technologies
Hit the links.
Even if you are not the world's player of the century, you can join thousands of others who feel that Wilson Staff is the best match for their skills since their results are so predictable and consistent. If you've seen the images of pro players hitting the same iron shot over and over, you too can have that same degree of confidence and at a price that is very manageable.
Hybrids
One element of golf that is tough to solve is hitting the ball off the carpet for long distances. If you want to take a page from the pro's playbook, you trap a middle iron and just stick it close every time.
In the real world, hybrids from Wilson fill an important void. You can utilize their hybrid options with great success on account of their thin profile with a giant sweet spot. Seniors, in particular can benefit from the length and other features of Wilson's hybrids.
3 Key Features of Wilson Staff Hybrids
Steel insert allows the face to be ultra-thin creating a giant sweet spot.
Progressive head shape allows for a more forgiving process of addressing the ball.
The custom like grip means you don't have to strangle the grip on account of the smooth, tacky finish.
Fairway Woods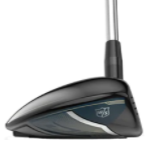 You have a 225 yard carry over a creek and you and your partner are down two with three to go and your competition has been trash talking all day. So, playing it up short and safely is simply not an option.
Additionally, the wind is a gusting left to right and that is not going to help your normal draw. What do you do?
A Wilson fairway wood is what you pull off your golf cart so you can navigate this tough shot. You didn't have to pay an outrageous price for these woods but somehow the balance and weight are perfect for you.
You know you can't overswing as you search for a bit of extra distance. On account of Wilson's innovations, you clear the hazard with room to spare.
3 Wilson Staff Innovations in Fairway Woods
Variable face technologies mean the golf ball will fly high and far regardless of the exact site on the face it hits.
The content of the face includes a thin steel insert to enhance distance.
Some models are specifically designed with a minor offset to fight the golfing world's dreaded slice problem.
Drivers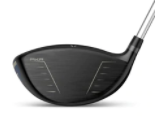 Even casual browsers can see that these drivers are different. But how they are different requires knowing something about the geometry of a driver head. And you thought high school geometry was a waste of time!
The profile of these drivers is a study in aerodynamics and space age content. Additionally, the size of the head is fairly typical, but the face is not typical at all.
5 Advantages
The face has a number of zones, each of which is designed for the golf ball to strike it at the perfect angle.
The Kevlar top of the head is super light leading to faster club head speed helping in the never-ending search for distance.
Kevlar also moves the center of gravity lower in the head creating loft for those who are wanting higher trajectories.
Kevlar even reduces vibrations at contact which helps reduce the risk of arm and shoulder pain.
With choices for both flex and loft angle, those images of blowing past your competition while staying in the middle of the fairway become reality.
While price is not the reason you should buy a driver, the price for these drivers is far less than other golf equipment manufacturers. Pull one of these out from your golf cart with confidence.
Golf Club Sets
The profile of the buyer of a complete set is of someone who is value price oriented, wants quality, is trying to keep their life simple, and does not have the time or inclination to shop at every site advertising for their business. So, what's wrong with that? Nothing!
Wilson's philosophy is to provide value without sacrificing quality. Their golf sets have earned a reputation for exactly that.
Other Wilson Golf Products
Balls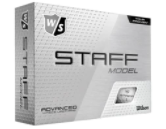 While these guys produce many serious, long-distance balls, they also have a bit of the rebellion in them. For the golfer that holds tradition near and dear to their hearts, the tried-and-true white ball is available and ready to jump into your golf cart and do its job.
But if your profile is a bit of a rabble rouser, they also make fun colors like yellow, orange and blue. Go ahead and browse - these colors are making a statement that you won't find in Wikipedia. You are your own person and there is certainly no rule against these bold choices.
There is a practical side for these too. They are easier to search for and find which saves you time and money.
Clothing
If your wardrobe has not been updated in this century and some other fancy companies carry a price that is, well, not your price - check out Wilson's clothing for bold colors, standard looks and all at a reasonable price.
Accessories
Gloves are often thought of as accessories. Really, for most they are necessities. A browser looking at the content of these gloves should be impressed with the quality and value.
Bags
Are you no longer content to have that old bag on the back of your cart? Time to buy another that has plenty of pockets so you have full accessibility to your rain gear, range finder, those new yellow balls, and a ball retriever in the unlikely event that you need to search for one of those balls that landed in a water hazard.
What About a Sales Price?
Be sure to see our clearance website for amazing deals where the sale price will be less than our regular, competitive price. These pages have such great deals that you will have to check the content regularly as you will want to fill your cart.
The Best of the Best
When it comes time to search for new golf gear, Golf-Clubs.com is your "go to" place to get what you need. The choices are endless, and the prices are always competitive.
Clothing for men, women, and kids. Rangefinders. Accessories like gloves, bags and hats. And you almost certainly will need a new pair of shoes to keep your feet comfy and dry.
Questions?
Call us! Our golf experts are friendly and knowledgeable about everything you need so don't be content to use ancient equipment. You deserve the best and we have it ready to ship to you.
Looking for a Gift?
Bring us your budget and we can offer suggestions for that golf nut in your family. We have great ideas for everyone from the beginner to the advanced player. We love to help!