Womens Golf Tops
They say variety is the spice of life. When it comes to golf shirts for women, variety is certainly in vogue and easy to access with strong brands and reasonable prices.
The golf shirts women's players want, have unprecedented variety of style, fabric, color and other features to shop. The world of women's golf apparel has gotten fun to browse and even more fun to wear to the golf course.
Categories of Ladies Golf Shirts
Sleeveless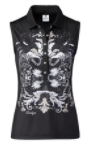 Ideal for a hot weather game, sleeveless ladies golf tops are all the rage. As you search for golf shirts you will see massive choice - frequently with a very attractive price.
You name it - someone's brand will make it. Button down, zipper front, snap closures, tank top: every stylish option is available. If you play any sport, you will appreciate the polyester material that will wick away perspiration keeping you comfortable on account of the performance properties in today's women's apparel.
Short Sleeves

This classic look will never go out of style for ladies' golf clothes. With stretchy content in the fabric, ladies can have that full range of motion needed in a good golf swing.
Long Sleeves for the Golf Course

Apparel with long sleeves is worth a browse for golf in cooler weather. But even in warmer weather, long sleeves can be worn as they serve to block the harmful rays of the sun. Some fabrics have that as a special feature - so important for those with delicate skin.
Shop for long sleeve apparel in any season especially if your location offers deals during end of season sales.
Ladies Golf Outfits
While you shop for tops, it makes total sense to look for more information on pants, sweaters and accessories at the same time. As you browse, you will find opportunities to make an entire ensemble for the next country club event or just for a Saturday outing with friends.
Other Features in Women's Golf Clothes
Browse for fast drying, breathable golf tops. Really, the price is not so different so why not get this included as you refine your menu of options?
Also, quick drying fabric has come to the fore as busy golfers everywhere do not have time for long times in the dryer. These should be color fast too.
Color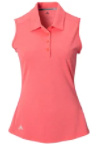 Finally, access the exact color or pattern you want. You will get more use out of apparel you really like as opposed to apparel on which you simply got a good price.
One Stop Shopping
Golf-Clubs.com has a great everyday price but be sure to browse our sale site here for our limited time clearance items. And we have a huge selection of golf equipment of every kind and sweaters, pants, and accessories too.
Questions?
Call our helpful and friendly customer service staff. Join our email list for notice about sales. And we ship promptly too!