TravisMathew Mens Pants
On the PGA Tour, pants are required for all men's tournaments. To walk 18 holes in the heat (a cart is allowed on the Senior Tour) is a difficult process for every participant, therefore, highly comfortable pants like a Travis Mathew product, are in demand.
The material used by TravisMathew simply has to perform and they do it with style in every location whether it is the local public course or the private owned club. Golfers expect to wear quality when they put on TravisMathew so when you select their products, it means you are not content with the average.
Why Buy Pants Designed by TravisMathew?
When you access the data about pants, reviews tell us TravisMathew customers want more than basic pants. These guys deliver.
Easy Fit Stretch Product
You must agree that golf (and life) requires flexibility. Their fabrics yield just a bit making these pants your friend even if your size is in between standard ones.
Review the Waist Band
Some men have to deal with uncomfortable pants on account of a waistband that pinches. Some manufacturers are unable to offer any solution. TravisMathew's run a little bit big, and they stretch with complete recovery when the stretch is no longer needed.
You will collect comments from friends who will want to know where you shop. So, this gives you permission to have that extra piece of pie you crave.
Details Matter
Pockets that make it easy to access your stuff. Wrinkle resistant functionality - forget the iron! In a sign of great pants, the availability of several colors will mean you will want several pairs.
More Information About Styles
Jogger Design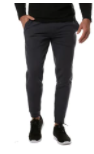 With elastic cuffs and softer than soft fleece, you will agree this is the most luxurious product you can wear. A drawstring makes your pair feel like a customize model.
Traditional Golf Pants
You can't go wrong with these pants that have amazing functionality both on and off the course. You will create an image of understated elegance with beautiful fabric and clean lines and all with excellent prices.
Join Our E-mail
With your permission, we will contact you with notification of clearance sales when you join our growing email list. You may unsubscribe at any time. Our shipping is prompt too!
While you are checking out our amazing selection of apparel, be sure to access our sale site for page after page of great deals. We also have great prices on balls and gloves.
Contact our friendly golf staff with any questions. Curbside pickup is available at our SE Michigan location.