Sale and Clearance Golf Bags
How do you know where to find a great deal on golf bags? That's easy: if you find it on our Sale & Clearance Golf Bags page it means you are getting an even better price than our every day, value prices. And that means it is a great deal.
Name brand golf bags are not cheap, but they really are important for carrying all your clubs, balls and accessories. So, if you find them on sale where you save money AND you replace that ugly mess you have now, you have a big win to show off on your next trip to the course.
Where do closeout golf bags come from?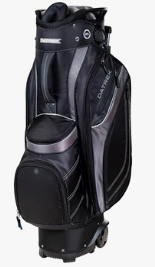 End of Season Sales
There is a time of year, especially up north, where the temps turn chilly, and the golf season is slowing down. Golf bag makers know that and offer special deals to Golf-Clubs.com customers.
End of Model Year Clearance
There are times that Golf-Clubs.com has to make room for new merchandise arriving to our warehouse. You get the benefit of the changeover to next year's models.
Manufacturer's Deals
There are times that golf bag makers want to move their products more quickly. When they do, we can pass the savings on to you in the form of discount prices.
Last One Sales
When we have just one or two of a given item left to sell, sometimes we simply want to make some space for other merchandise. This is definitely one of those "right time and right place" situations for you to take advantage of because when they are gone it means there are no more to sell. Act fast when you see this!
What kind of a bag can you get on sale?
Stand Bag (aka Carry Bags)
Golf stand bags are typically used by golfers who like to walk the course. They are lighter and have a couple of legs that hold the bag up while you are getting ready to hit your shot.
Cart Bags
Cart bags are designed to sit comfortably in a golf cart and therefore are a bit heavier and have more pockets and space to carry your rain gear, balls and other necessities. Cart bags often have a jazzy style and a brand name prominently displayed.
Tour Bag
These are the giant golf bags usually carried by caddies on behalf of pro golfers on the tour. This kind of golf bag has space for everything including the kitchen sink!
Travel Bags
When golf is included in your travel plans, you need a travel bag to protect your clubs and bag from airline baggage handlers and shipping companies. Extra heavy nylon, zippers and padding are vital when you ship your clubs over long distances.
Importance of Acting Quickly
Golf bags are not on sale all the time. As you shop this department, when you see a quality bag with a bargain price that you want for yourself (or as a gift), jump on it and get to the checkout fast. When they are gone, they are gone.
Shop with Us
With so many brands like Callaway and TaylorMade and more, Golf-Clubs.com is happy to give you a huge selection of women's and men's apparel, shoes and clubs. Join our email to hear about sales and specials.
If you have questions, call us! Our team of friendly golf experts is here to help.