Oakley Golf
Oakley Golf, a subsidiary of the high end Italian brand Luxottica, has its roots in motocross where vision and style are at the forefront of what makes it special. But it's not just sunglasses that makes Oakley a world-wide sensation.
Bags, golf apparel, and even footwear have all borrowed the same mentality from eyewear: use the highest quality materials, manufacture them to make the customer feel good, and have a certain jazzy style appealing to a broad array of consumers.
What Does Oakley Golf Make?
Golf Apparel
Italian companies are noted for their exceptional designs and stylish execution of high-end products. Oakley makes a full range of quality golf apparel for men and women who want to look and feel good on the course.
Shorts

Fast drying moisture wicking fabric gives you maximum cooling when you play in the sun.
Shirts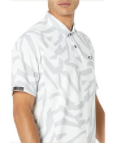 Unlike other brands, Oakley Golf is not afraid of bright colors and patterns in their golf apparel. Look for mesh panels to enhance air flow.
Base Layers/Leggings

Unique fabric blends provide a natural feel that other brands can only dream of. Search for products that stretch when you want them to.

Olympians. Military. Pro golfers. Hollywood celebrities. When you are protecting the eyes of such a diverse and eclectic population, you have got to be good.
Even prescription eyewear frames are in their portfolio. Using the best materials, coatings, and designs, their competition's frames try to meet their exacting standards but rarely measure up.
Think it's easy to make bags? When you set the world standard for quality and design, making a bag that will be practical yet attractive is not a simple task. The folks at Oakey Golf make bags that will survive a tough, back country hiking trip or a rigorous walk down the hallway of any high school anywhere.
Hovercraft
Ok, you probably don't want to spend $20,000 on a hovercraft golf cart from Oakley like the one used by top golfer Bubba Watson. But it's nice to know a company is smart enough to make one.
What Pros Wear Their Products?
If you are a pro athlete in golf, football, golf, snow sports, competing in triathlons, BMX biking, surfing or even skateboarding, you either wear Oakley now or you will some day in the future. Their presence in sports is nothing short of huge. Just a few of their endorsers include:
Football: Patrick Mahomes, Lamar Jackson

Golf: Bubba Watson, Ai Miyazato

Snowboarding: Jamie Anderson, Chloe Kim, Sage Kotesberg

Skiing: Mikaela Shiffrin, Sammy Carlson, Henrik Harlaut

BMX: Chase Hawk, Caroline Buchanan
5 Ways Oakley Is Different
1. As a part of Luxottica, Oakley Golf is in a very strong position to dominate active sports apparel and eyewear across the world.
2. Their golf apparel is welcome at golf clubs everywhere because of their quality.
3. Their eyewear is in elite company with their presence in the US military in several applications.
4. Oakley's products are extensively tested by professional athletes under extreme conditions.
5. Not many eyewear providers have been spotted on Prince William and Kate and American "royalty" like Jennifer Aniston.
Purchase the Very Best
For the discerning consumer who values quality, buying Oakley is a step up. Golf-Clubs.com stocks a wide array of Oakley products at a competitive price. Sometimes a discount sale price is available for a limited time. Shop fast as a sale price is something you cannot skip.
Search for items on a sale price, but the sort of quality you find here is sure to help your game at any price. Contact us with questions about our golf apparel, accessories (everyone needs accessories), and shoes. We love to help!