Mens Under Armour Golf Apparel
For a company that has only been around for 25 years or so, Under Armour has had a remarkable run making sports apparel for women, men and kids. Golf apparel by Under Armour has been showing strong results in competition with the mega brands.
As their apparel is considered innovative, some items for golf Under Armour makes have become top rated in some categories. As you search for a golf apparel item, be sure to add these guys to your list of brands to sort through.
Golf Products
With so much rapid growth, this company with a headquarters location in Baltimore, wants you to browse through a gigantic array of choices before you place your order.
Under Armour Golf Shirts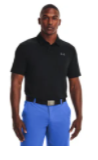 This company's first product was moisture wicking shirts. Innovative at the time and widely copied now, their fabrics are packed with features like sun blocking, anti-odor technology, and quick drying properties. On a hot day, Under Armour shirts will really help you keep cool (unless you are having trouble controlling your slice!)
Shorts/Skorts
When your playing location has temperatures and humidity above the comfort level, their shorts will provide welcome relief. Browse through jillions of options for men and women - all with a reasonable price.
Jackets and Pullovers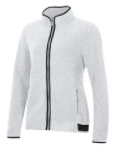 With color and pattern choices galore, you are sure to find the perfect layer when riding in the golf cart gets chilly. For such a great price, you'll want a couple of these sent to your location.
Pants and Leggings
With the same kinds of fabrics found in other Under Armour gear, you should expect to add several pairs of these incredibly comfortable bottoms to your cart. Some pants have a heat retaining special lining to keep you warm yet still filter moisture away from the skin. And the price is great!
Hats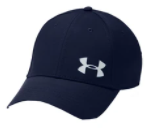 In a sign of how effective their hats are at managing sweat, many models have a special built-in headband that keeps that pesky perspiration off of your face.
Price?
Under Armour is noted as an innovator with a value price. Click here to checkout sales too.
Browse for Everything Golf
Golf-Clubs.com has a huge selection of all the top brands. Browse for apparel, shoes, and bags to carry it all. When you browse our choices, you know you will get a great price!
Join our email to hear about sales. We ship promptly to your location. Call us with questions as our friendly golf experts love to help!