Golf Carry Bags
It finally comes down to this: your doctor, spouse, kids and friends say you need to get more exercise. But the idea of dragging your rather heavy cart bag around the golf course seems more like a chore than exercise. The solution is to decide on one of the top brands of golf carry bags (also known as stand bags.)
Choosing the right golf bag is really all about understanding how you enjoy the great game of golf. If you find yourself trying to figure out the options, read on for help in picking out what is right for you.
Who should buy golf stand bags (carry bags)?
If you enjoy walking the course, you will want a golf stand bag. If you are going to carry your clubs around the golf course, you are likely to cover three to five miles depending on a bunch of factors like length of the holes, distance between holes and how much you spray the ball around. Now that is a great workout!
If you use a push cart to carry your clubs while you walk, it is still a great bit of exercise. In theory, you could use a cart bag with a push cart, but the best golf stand bags are really perfect for carts.
5 Main Features of a Golf Stand Bag
1) Lighter Weight
A carry bag is not designed to have the same large capacity of a cart or tour bag. Less stuff means less weight, but it does mean you have to pack smarter.
2) Legs and Frame to Hold the Bag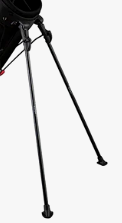 The frame is a durable material that will deploy the legs like a tripod when the base is set on the ground. This makes it easy to access your clubs and means you don't have to bend all the way to the ground to pick up the bag after hitting your shot thereby saving you wear and tear on your back.
3) Comfortable Straps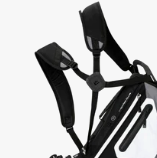 There are choices here between old school single straps or backpack style to swing the bag over your back distributing the weight more evenly. Either way, expect all of these golf bags to have padding on the straps making comfort a key priority.
4) Pockets for the Basics

No, you probably won't have room to fill the pockets with a dozen balls or a six pack of your favorite beverage, but who want to carry all that in your golf bag anyway? Expect enough pockets for some tees, balls, gloves, and probably for a rain jacket.
5) Golf Bags are for Clubs

Of course, you need enough room to carry a standard set of clubs and golf stand bags are up to the challenge. Expect them to have dividers to keep all of your sticks from banging together all the time.
Depending on the brand and price, there may be enough dividers so that each club has its own comfy compartment just as is found in cart bags. Other carry bags will have as few as three dividers.
Ultra-Lights
There are some ultra-light carry bags without dividers but generally they are made for getting a small number of clubs to the range or to your favorite "chip and putt" courses. This category is often the first bag for kids.
What About Prices?
Just like in all other categories, when you shop for a quality bag, price will often be a factor. But your game deserves a quality bag to last you for many years. Remember, your bag will also be used for storage and maybe travel too!
But this is a dynamic market on account of innovative materials bringing new versatility to almost every budget category. Players today have the advantage of lightweight synthetics that last as long or longer than old leather bags.
Also, be sure to checkout the deals found on our sales website as these will save you plenty of dough when buying a golf bag (and other golf gear too!) Check back often as these sales don't last long.
Shop with Us
Golf-Clubs.com is very proud to be your one stop shop for everything golf related. The brand you want will be here. The rock bottom price you want will make your purchase easy.
In order to save yourself some shopping, join our email list and sign up for advance notice of special deals. Our shipping is prompt and delivery is fast. If you can't wait for delivery, take advantage of our curbside pickup if you are near our store in our SE Michigan location.
Questions?
Trying to figure out the perfect gift for a birthday or holiday? Checkout our stellar group of in-house experts who are happy to offer advice and answer questions. The reviews are in: we are your favorite golf shop!