Footjoy Sale & Clearance
Some people say politics is the art of compromise. But when it comes to your golf shoes and apparel there is no reason to compromise when you can get a brand like FootJoy on sale and clearance.
FootJoy is the sort of company that always wants to please every customer. But sometimes there are closeout styles or last golf season items you can find at a bargain price.
But not every size or every color is available so you should always place orders today for the items you need whenever you see them. When clearance styles are gone, well, closeout price means closeout price!
FootJoy Golf Shoes
As the number 1 shoe in golf, FootJoy enjoys being the gold standard on the golf course and on sale is even better. The online reviews are a sign of the results they provide: they are loved the world over. Some series are available for every gender.
Men's Golf Shoes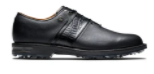 You can shop for golf shoes from a long menu of styles both old and new or a size to fit with a width for even wide feet. FootJoy shoes will fit you like a glove - especially on sale. But your search for a company making a golf shoe better than FootJoy golf shoes is likely to be frustrating search.
Premier Series
In the category of accessible quality, the Premier Series is very popular among pros because of its top quality leathers and overall construction. Low profile spikes make for excellent traction in impaired conditions. Mostly traditional styles means white is the main color but others add some sizzle to your season.
DryJoy Series
DryJoys are known the world over for a superb grip on the course whether the weather is wet or with sun. White is one of many colors for this equipment.
But you will want to shop for this shoe at any price if your course has lots of standing water (as is found at many clubs) on account of superior results at repelling moisture. With a sale page price, shop all you want but this is the time to buy.
Traditions Series
Classy looks like Traditions never go out of style. Add in a few contemporary details and customers will want these every day. And they do.
Women's FootJoy Golf Shoes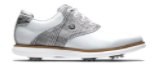 Ladies golf shoes have the same content as men's but made for the size and comfort women have been shopping for in their golf equipment. The range of prices in our clearance sale reflects the sort of options a savvy customer will appreciate.
Flex Series
This category of mostly spikeless shoes is highly desirable anytime but especially with a sale price. As they are super light, they work when hitting practice balls at the range and when walking the course.
Sport Retro Series
Wear these to play golf or to the kid's soccer practice. At a sale price they aren't free, but you should check the menu of colors and buy several!
Pro/SL Series
Need some extra cushioning for your feet? These are the shoes to search for on a clearance page or any other page for that matter.
FootJoy Apparel Sale
Whether golf is in season or out of season, closeouts on apparel represent great prices whenever they are available. Even if you aren't hitting the links soon, the sort of deal you can get on our FootJoy sale page are designed to please your wallet.
Women's FootJoy Golf Tops

Getting a sale price on tops is something to shop for all year around. Sleeveless, polos, or even long sleeve are on the menu whether shopping for yourself or for someone else. Many fabrics have sun blocking content and include white and many other colors and patterns.
Men's Shirts

With moisture wicking fabric made from high quality poly content, all clubs would be happy to see these on their green or in the club house. From conservative white to fun patterns, your size may be available so you can search for the price that fits your budget.
Skorts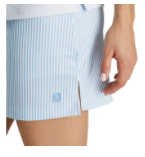 A sale price on skorts? Why not? Various choices may be available ranging from plain white to stripes. Find your available size and jump at the chance to get cheap FootJoy apparel.
Shorts

Both men and women wear shorts on the links on account of one simple reason: a pair of shorts offers super comfort and a pair offers convenience for carrying all those little accessories like divot tools and ball markers.
White always looks great, if you are content with this classic look. But others are available too. If your size is available online, grab your Visa Mastercard and take advantage of a sale price.
The Best Customer Service Team
It doesn't matter if you are looking for a basic golf glove, exotic clubs or functional bags. Golf-Clubs.com is here to help with your search.
One Stop Shop
We're showing off here, but whatever your golf needs, your search is over for the best choice, the best service and the best quality you can find. And all those accessories you search for will be great for any gift giving occasion.
Contact Us
Check out our extremely helpful Learning Center for all kinds of helpful advice. If you prefer to contact us by phone, no worries, we are here with friendly, well trained staff who are available to help you with your questions and your orders.
We ship fast but if you are local to SE Michigan, we offer free curbside pickup too.