FootJoy Golf Gloves
Not only is FootJoy the leader in golf shoes, but FootJoy golf gloves are the hottest selling golf gloves on the market. FootJoy golf gloves outduel many competitors on the market and it is the number 1 glove in golf.
Gloves are important to grip the club correctly and you should expect the small price you pay when you purchase a new glove will ensure some improvement in your game. A new, soft glove in the right size, will give you feedback from the club that could immediately improve your play.
A Comfortable Glove from FootJoy
FootJoy golf gloves are known for the amazing comfort they offer on the course. The ability to have a perfect size and fit for any hand, FootJoy golf gloves are providing items that will better a player's look, as well as their performance.
Throughout the many types of gloves that there are to choose from, there is one consistent with the golf gloves that FootJoy has to offer and that is the performance that the glove is going to give every golfer when they wear it.
Types of FootJoy Golf Gloves
There are types of FootJoy golf gloves for all occasions, including winter, rain, and just your everyday game at the golf course. While you search for a glove to fit the conditions you anticipate playing in, just know FootJoy will have an option for you.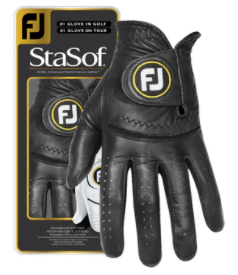 StaSof
StaSof is the most popular of FootJoy golf gloves according to professional tour players. The fabric is TactionLT Advanced Performance leather and feels incredible against your skin.
Breathing holes between the fingers help keep your hand cool. The power net mesh around the knuckles increases the flexibility of the glove.
Details matter to FootJoy. The velcro tab is slightly angled to align with hand shapes and overall, the glove is an extremely cozy glove to use.
Although leather won't last like some synthetic materials, it will continue to perform after a number of rounds and practice sessions. For the price, it is easy to see why nearly every golf cart has at least one FootJoy along for the ride.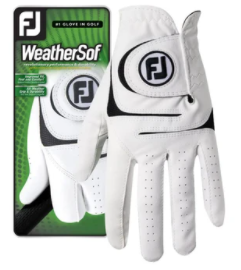 WeatherSof
WeatherSof is a brand of glove with a design that is effective in wet conditions. It offers a fit to golfers that will provide stability and keep golfers content in all weather conditions.
When playing in bad conditions, all golfers must remember the tips they get in lessons. If you are trying to access a particular shot, worrying about the grip will distract from executing the shot.
HyperFLX Golf Gloves
Constructed of premium CabrettaSole leather this glove feels good. But the construction is also extremely flexible and breathable.
Although it looks clean, its grip doesn't seem tight and you can move your fingers freely. Even if it is strong for leather, it is not as strong as some synthetic models.
The power mesh on each knuckle also assists with movement. Perforations were strategically located to improve breathability.
The elastic cuff is moisture wicking to improve fit and comfort. The fibersof material has great flexibility and increased comfort. It provides a very tacky hand.
Pure Touch Gloves
Made of extremely soft leather this Cabretta leather is supple and feels like a second skin. Specialized leather perfectly molds to the hand creating a nearly custom fit.
In conjunction with the strategically positioned elastic, the fit is second to none. Strategic perforations means the glove is breathable and keeps your hand cool in hot weather.
A pair of these golf gloves have a premium price and are in short supply. These gloves take a page from their exceptional golf shoes to give you a comfortable feel that is hard to match - even for tour pros.

RainGrip Golf Gloves
Footjoy RainGrip is a good wet weather golf glove. The suede knitted palm offers excellent grip in rain.
The quick dry glove material was designed so that it can repel moisture and still be breathable. The ball markers really are a nice feature and are really very useful on wet days.
Sizes for Every Hand
Most players won't have any trouble finding a size of FootJoy to fit your hands. From Cadet Small to Adult Extra Large, sizing for women and men and juniors should not be an issue.
They come in Left and Right Sizes and even pairs so that if you are playing in really bad weather, you can have a glove on each hand.
Rotating Your Golf Gloves
It is a good practice to follow to rotate your gloves when you wear them so as to extend the durability. FootJoy golf gloves are durable, but making sure you are rotating FootJoy golf gloves is important to keep FootJoy golf gloves from becoming worn out prematurely.
Golf gloves should fit your palm, to your finger length, and even your middle finger length like FootJoy golf gloves. All brands need to breath after a round especially in hot, humid, or wet weather to make them as durable as possible.
The sort of quality you get in FootJoy means there is no room for compromise.
Shop for the Best
Search our site for all the top golf glove options FootJoy has to offer. We have something that will fit everyone's needs.
Need Shoes? Got 'em in huge supply. Want to shop for the best in apparel? We've got you covered.
Take a page from the pros - buy the best. Your cart will be full of excellent values from Golf-Clubs.com.
Questions?
If you need any help in your search of new FootJoy golf gloves, request one of our golf experts who are available to help Monday-Friday 9-5. Call us @ 833.238.8800.