Callaway Golf Drivers
"Drive for show - putt for dough" is an expression often cited as justification for hitting bad drives. But that simply ignores the importance of hitting a good drive like you get when you hit Callaway golf drivers.
Bad drives will cost you strokes if you hit into water hazards, traps or the woods and most dramatically if you hit it out of bounds. Getting that little white sphere off the tee and into the fairway with some distance is what Callaway drivers are noted for.
Options for Drivers
Shopping for new golf drivers can be stressful, especially when analyzing the selections you have to choose from at certain price points. Not including custom models, there is a lot on the menu when looking for new drivers.
Why Buy a Callaway Driver?
With so many options in the market, consumers should know this brand as one of market's leaders. Callaway drivers have set a standard that is very hard to beat for a wide array of players.
Huge Research Budget
Callaway golf drivers are the output of extensive research and development efforts. The company that first brought you the ground breaking Big Bertha is one of the largest brands doing research in the industry.
Cutting Edge
Their work includes using artificial intelligence as part of their desire for all of their clubs to make for the best of the best brands. Space age materials create the latest and greatest drivers in the industry.
Technology
Callaway knows the reason people buy Callaway drivers is that they want distance and accuracy. But they also know that every player's swing is different so it takes innovation to give confidence on the course to 25 handicappers, mid handicappers and scratch golfers alike.
Easy Modifications

Callaway golf drivers are certainly not the only ones where tweaking the driver is possible. But Callaway drivers take it to a whole different level.
Adjust Settings
With innovations like adjustable loft and interchangeable weights they allow the consumer to get it just the way they want it.
Variety of Models
When you shop for Callaway golf drivers, you will have plenty of choices. Chances are Callaway makes exactly what you need.
Want a stiff shaft? Want to play a specific lie angle? Callaway golf drivers offer plenty of flexibility regardless if you operate with slower swing speeds or faster ones or if you hit the center of the sweet spot or if you are all over the club face requiring more forgiveness.
Choices in Callaway Drivers
Of the various Callaway golf drivers, it is important to consider your needs on the tee. If your playing partners are referring to you as the "rogue driver" that is unlikely to be a compliment.
Big Bertha Series

When the Big Bertha exploded on the scene, golf writers and players of all skill levels went totally nuts for this design. But Callaway has not rested on that accomplishment.
Big Bertha Updates
New models like the Big Bertha b21 includes much of their latest technology including the exciting flash face technology that corrects your off center hits and the vaunted jailbreak technology that incorporates bars inside the head to improve ball speed off the face. With their internal draw bias weighting, that slice could go away - fast.
Epic Series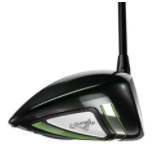 The Epic Max ls like the Epic Speed with the focus on distance. A slightly longer shaft, the famous Callaway interchangeable weights and adjustable loft settings means it would be very difficult to match the quality of Callaway golf drivers at any price.
Importance of Adjustments
Very small adjustments can made a very big difference. With Epic, you can make these tweaks until the driver does what you want it to do.
Other Series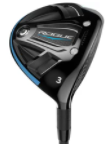 Callaway also makes drivers under the names of Aldila Quaranta, Aldila Synergy, Callaway Mavrik Sub Zero and Rogue. There is a full line up of fairway woods too.
Women's Drivers
Women golfers get to hit with Callaway too. While retaining the stellar tech innovations of the men's clubs, look for somewhat shorter shafts in this group of clubs.
Best Callaway Drivers for Beginners
If you are new to the sport, you are not to worry, because there is a Callaway golf driver out there for everyone. There are some things that need to be assessed for each individual player to find the right club for themselves, which makes going through our Learning Center useful.
Callaway drivers with a higher loft will help beginner players, promoting many of the qualities needed to learn the game. Also models that try to limit spin will work on reducing the tendency to spray the ball.
Ball Flight Impact
A part of golf drivers that really becomes important for players is the flight of the ball and the feel it gives someone. Higher lofts mean it goes higher and while that can hurt distance, it will help control the shot.
Another way to save strokes and find better flight is analyzing whether you slice shots, draw, or fade the shot when it is shaped. Knowing how you want to shape your shots will go a long way in the selection of drivers and getting the right golf club at the right price.
Prices?
The purchase price of golf clubs can range all over the place. This is one of those investments where you really get what you pay for on account of the resources Callaway puts into their drivers.
Callaway drivers are seen as the brand with exceptional attributes. Any search for a new driver simply has to include Callaway.
Sales?
If you are lucky, you will find Callaway on sale. Check here to see what's available.
Online vs In Store
Deciding whether to shop in a store or to order online is also a tough decision.
Online Advantages
Going on the internet can save you time and effort. And if you have already hit your buddy's Callaway drivers you don't really need to spend all that much time to make your decision.
Do Your Homework
A site like Golf-clubs.com also has tremendous resources with buying guides to assist in making a hard choice much easier to make. The more you know about what you need, the easier it is to buy online.
In Store Advantages
Going into the store will allow you to try out how you will hit the drivers and to get a feel for all of the various options that are available. You also get a chance to have experts answer your questions on account of the fact that it is likely they have seen swings similar to yours and, as a result, offer suggestions on suitable products.
Shop for the Best in Golf
Golf-clubs.com has all the golf brands you need from apparel to accessories. We have great rangefinders that make perfect gifts for the golf nut in your family.
Have questions?
If you need any help in your search of a new driver, our golf experts are available to help. Call us!