Callaway Golf Apparel
Golf clothing has three main functions: weather appropriate coverings, carrying your golf stuff, and looking good in the process. Callaway golf apparel does all of this and more for the performance driven golfer who wants premium quality in a reasonable price range.
The Callaway apparel collection goes to extra lengths to insure comfortable clothing. Their designs are contemporary without being trendy so you can be assured of many years of wearing these classics on and off the golf course.
Why Buy Callaway Golf Clothing?
Some designers want to be good while others strive for excellence. Callaway golf apparel wants only to be the best of the best.
Exceptional Fabrics
When it is hot outside, you want to keep your cool out there (unless you miss that two foot putt of course.) Golf apparel from Callaway utilizes high tech, lightweight fabrics with ventilation to allow air to pass through keeping you from getting hot under the collar.
With a durable polyester fabric, Callaway polos will wick perspiration away from your skin further enhancing comfort. And, with up to a UPF 50 rating, the harmful rays of the sun will be deflected too.
Stretchable Designs
By adding in just the right amount of Spandex, Callaway makes their polos stretch where and when they should. Even better, they go right back into their original shape and all of this even after they have been through the washer and dryer any number of times.
Colors and Patterns You Like
Calaway golf apparel like their polo, has the full range of colors that are right for just about everyone. And if you like stripes, the Callaway designers of men's tops understand you want something with a bit of style without looking like you just got splattered by a blender.
Callaway Apparel Sizes
Callaway golf apparel runs true to size so you know what you will get when you order. Whether you are s m l xl xxl you can access the size you need.
Polo and Quarter Zip Tops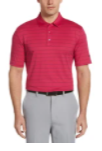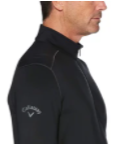 Callaway golf apparel is best known for their polo shirts and quarter zip pullover jacket. A men's zip jacket is perfect for layering over a polo for those days when the breeze picks up and the temps decide to go low in those early spring or late fall rounds.
What About Price Range?
Callaway clothes have surprisingly value oriented prices for the exceptional quality they provide. For those who may wonder is Callaway a good clothing brand, once you buy their apparel once, you are likely to become a repeat customer as there are very few other designers who can boast of the quality at such a reasonable price.
Shop for the Best
Golf-Clubs.com is truly your one stop shop for Callaway and all the other top golf brands. If you want to keep in touch with us join our email list to hear all the latest about sales and to get coupons.
In addition to golf apparel for men and golf apparel for women, we have a huge selection of shoes and accessories that every golfer needs. Call our friendly golf staff with any questions as we love to help!